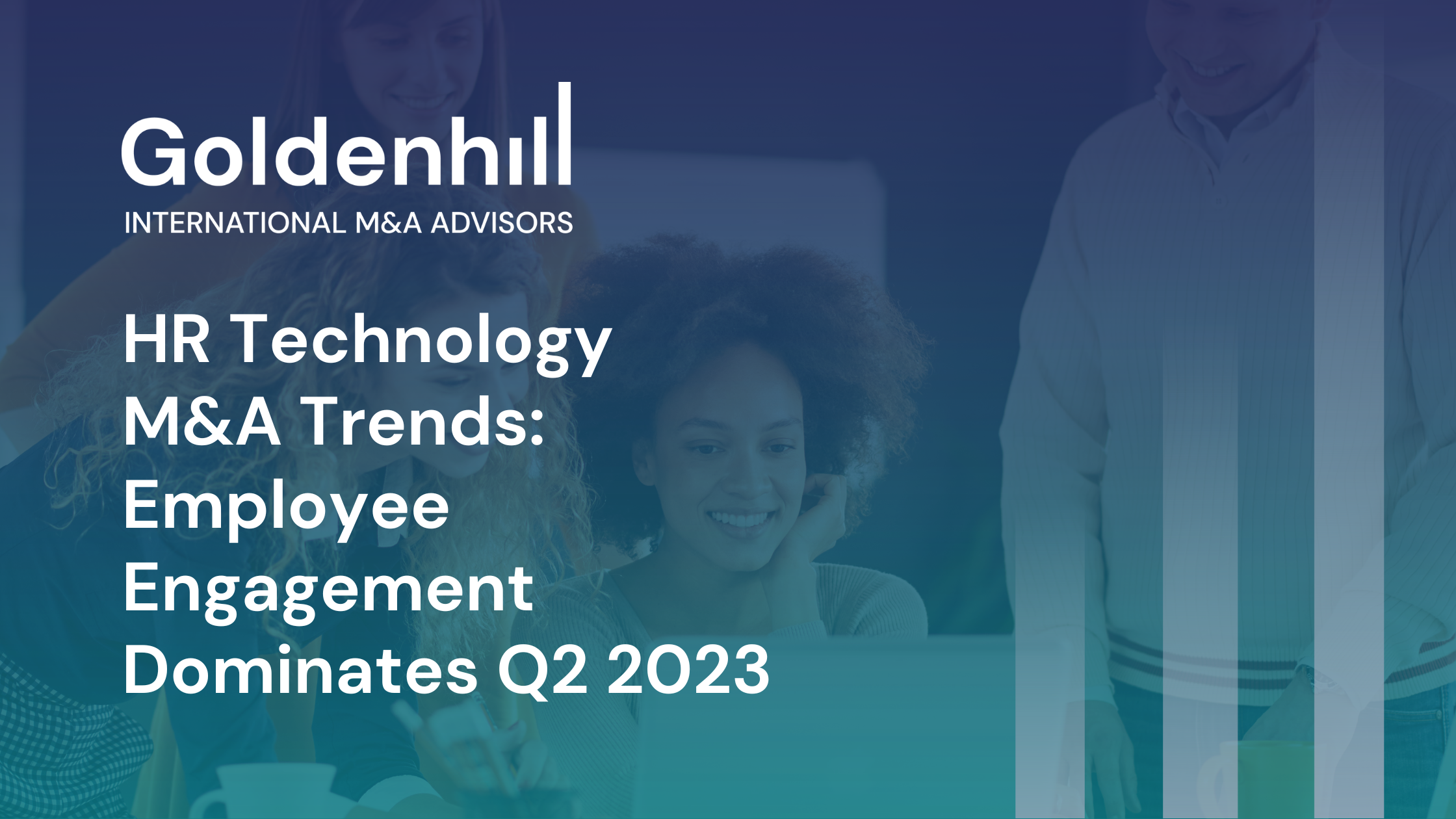 HR Technology M&A Trends: Employee Engagement Dominates Q2 2023 with Notable Trends and Transactions
The second quarter of 2023 witnessed a surge in mergers and acquisitions (M&A) within the HR Technology sector, with a particular focus on employee engagement. As businesses adapt to remote and hybrid work models, the demand for software solutions promoting employee well-being and collaboration has intensified. This article explores the emerging trends and notable M&A transactions in HR Technology during Q2 2023, shedding light on the market's resilience and the influence of technological advancements.
Employee Engagement Emerges as the Most Active M&A Sector
During Q2 2023, the M&A activity in the HR Technology sector saw a notable increase in employee engagement software platforms. To support digital communication, remote collaboration, and employee satisfaction, businesses are investing in sophisticated solutions enabled by artificial intelligence, machine learning, data analytics, and automation. These technologies empower HR departments to make data-driven decisions and provide personalized experiences to geographically dispersed teams.
Edenred, a prominent player in the market, made significant acquisitions during the quarter. They acquired GoIntegro in April 2023 and Reward Gateway, the largest transaction announced in the quarter, in May 2023. The Reward Gateway acquisition, valued at $1.4 billion, demonstrates the growing importance of employee engagement in the business landscape. Another noteworthy transaction involved Zoom Video Communications acquiring Workvivo, an internal communication and engagement platform, in April 2023.
Technological advancements have revolutionised HR practices, offering personalised experiences, real-time feedback, and targeted interventions. The market has also seen an influx of non-HR companies recognising the potential of HR technology beyond traditional functions.
Increase in Buyers from Outside the HR Technology Sector
A compelling trend observed during Q2 2023 is the rising number of non-HR companies venturing into the HR Technology space. These companies recognize the potential impact of HR technology beyond traditional HR functions. Zoom Video Communication's acquisition of Workvivo signals its intention to position itself as a core employee communications and engagement tool. This move could potentially lead to the introduction of additional related products, such as internal communications solutions.
WebMD Health Services Group, a leading provider of business-to-consumer health and wellness services, acquired Limeade in June 2023 for $111 million. This acquisition expands WebMD's service offerings by incorporating employee well-being software solutions.
Similarly, Veritone, an artificial intelligence tech company, acquired Broadbean, a leading provider of recruitment advertising and job distribution solutions, for $52 million in June 2023. This acquisition enhances Veritone's AI algorithms and analytics by incorporating more than 5 billion data points of global job advertising performance.
M&A Overview for Q2 2023
The second quarter of 2023 witnessed an overall increase in deal volumes compared to Q1, with 86 transactions reported. Two transactions valued at over $1 billion contributed to the surge in average deal values. Talent Attraction remained the most active sub-sector, accounting for 38% of the total deals, followed by Talent Development at 26% and Workforce Management at 20%. Furthermore, cross-border transactions accounted for 36% of the total, with North America and Europe being the most active geographic markets.
Public Companies Overview for Q2 2023
Public HR Technology companies experienced positive performance during Q2 2023. The large-cap segment observed a 14% increase in average revenue multiples, while mid-caps remained stable, and small-caps witnessed a modest decline. Although valuations have improved slightly compared to the previous quarter, they remain below the peak reached in 2021. Public HR Technology firms outperformed the NASDAQ index during the quarter, after tracking it in 2021 and 2022. The Goldenhill HRTech Index also outperformed the broader S&P over the entire period.
Revenue growth remains a key driver of higher valuations, with companies like Paylocity, Grupa Pracuj, and Atoss exhibiting strong expected revenue growth. Additionally, recurring revenue constituted an average of 87% of total revenues across all companies, highlighting the stability and predictability of the HR Technology market.
Book a Consultation with Us
The HR Technology sector is experiencing significant growth and transformation, driven by the increasing importance of employee engagement and the integration of advanced technologies. As businesses strive to create productive and connected workforces, leveraging HR technology solutions becomes crucial.
If you are a business owner, investor, or executive looking to capitalize on the dynamic HR Technology market, we invite you to schedule a consultation with our experienced M&A team. With our deep industry knowledge and extensive network, we can provide comprehensive guidance on navigating the M&A landscape, identifying potential acquisition targets, and maximising value for your organisation.
To discuss the potential for a sales process in the HRTech space, book a consultation here.
Author: Philip Albright
Partner
Highly-experienced M&A advisor with a particular emphasis in HR Technology (HRTech) and the Human Capital Management sector globally; assignments range from working with leading SaaS businesses in HRTech as well as continuing to advise traditional recruitment and staffing firms.
In my career spanning more than 25 years, I have advised on Workforce Solutions sector M&A transactions in over 30 countries throughout the world. I work with both buyers and sellers of businesses within these fields.
Additionally, I have a strong personal interest in the related fields of data science, machine-learning and Artificial Intelligence. I also work closely alongside the ESG M&A team and assist the team with M&A deals within the ESG sector.
If you are an owner or senior executive of a HR-or ESG-related business interested to discuss how M&A could help you accomplish your objectives – please get in touch.