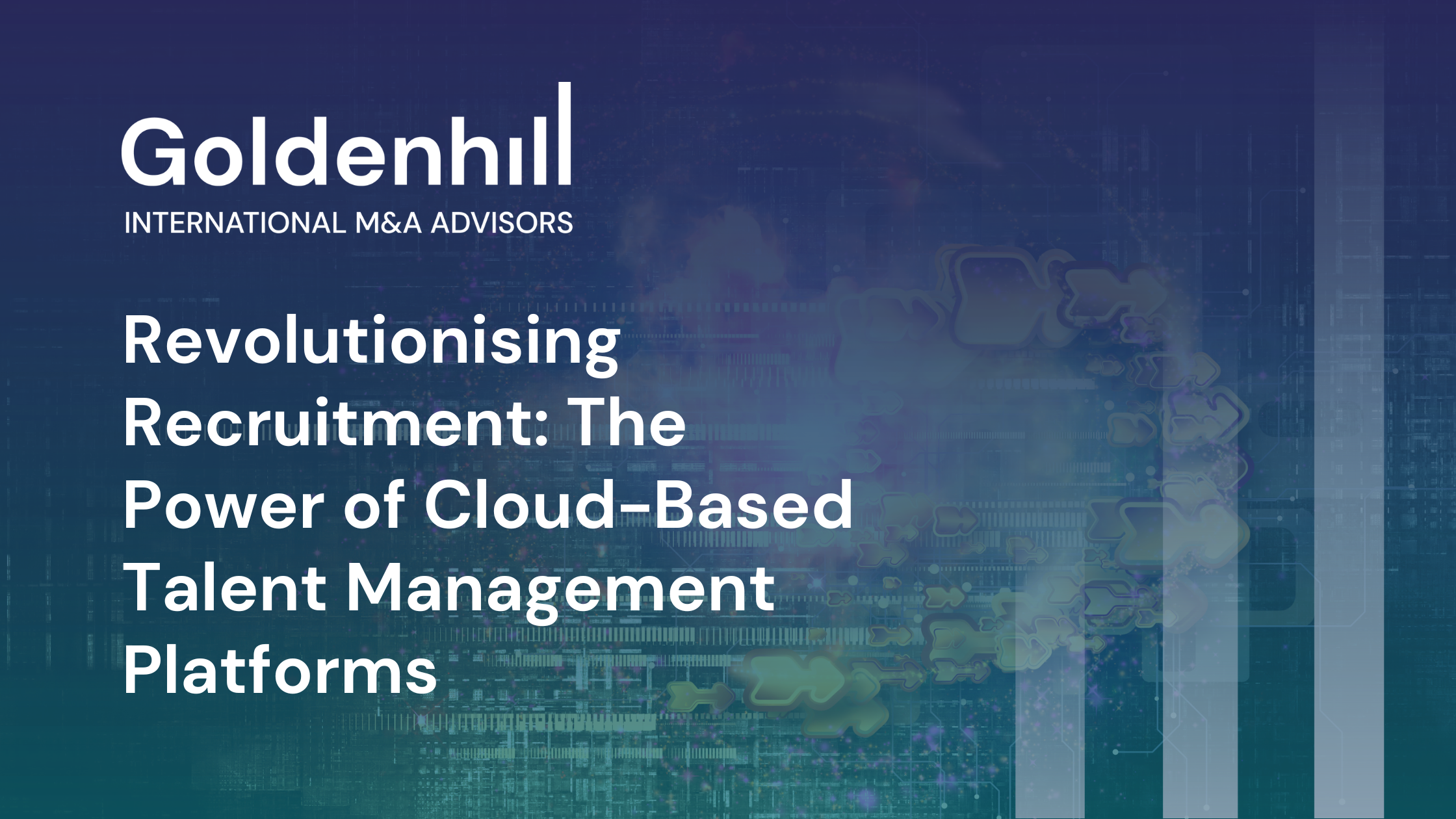 Revolutionising Recruitment: The Power of Cloud-Based Talent Management Platforms
The rise of cloud technology has revolutionised many industries, and human resources is no exception. With the increasing demand for workplace digitisation, cloud-based recruiting and talent management software platforms have taken centre stage.
In this article, we review the reasons why cloud-based recruitment and talent management software platforms are taking centre stage and revolutionising the way that HR leaders hire and retain top talent.
Cutting-edge Technologies are Accelerating the Recruitment Process
Gone are the days of tedious, manual recruitment processes. Enter cloud-based talent management platforms, revolutionising the way HR professionals approach hiring. These platforms automate repetitive tasks, freeing up time for recruiters to focus on more important, strategic initiatives. They also provide real-time insights and data analytics, giving companies a competitive edge in their talent management strategies.
According to a survey by the Society for Human Resource Management, 60% of organisations have already adopted automated recruitment tools, such as applicant tracking systems (ATS), and have seen a significant reduction in time-to-hire by 2-3 weeks. This not only speeds up the hiring process, but also allows recruiters to focus on sourcing and candidate engagement, creating a more personal and meaningful experience for both the company and candidate.
Virtual and augmented reality are also making a big impact on the recruitment process. In a recent survey by TalentCulture, 71% of HR professionals believe these technologies will play a major role in the future of hiring. By offering a realistic and immersive experience for candidates, even if they are remote, these technologies build a stronger connection between the company and potential hires.
Another game-changer in the recruitment process is the use of machine learning (ML) algorithms. These algorithms analyse candidate data, including interview answers, resumes, and social media profiles, to score and summarize the pros and cons based on job requirements. This helps companies make informed decisions about potential hires, saving time and reducing the risk of bias.
Finally, social media and other digital platforms provide new and exciting opportunities for recruiters to build their employer brand and reach potential candidates. By creating a strategic social media plan, recruiters can target specific audiences and showcase the unique culture and benefits of their company.
From responsible AI to metaverse platforms for corporate learning, business operations with HR technology are constantly shifting and evolving.
Recruitment and Talent Management Software M&A
M&As in the cloud-based talent management software industry have helped companies offer more comprehensive solutions to their customers. By acquiring other companies, they can integrate their product offerings, expand their customer base, and increase their market share.
This, in turn, has led to the creation of a more competitive market, where companies are continuously looking for ways to improve their offerings and meet the changing needs of their customers. As a result, mergers and acquisitions in the cloud-based talent management software industry have become more frequent, as companies aim to consolidate their market position and offer more comprehensive solutions to customers.
Here is a snapshot of some of the recent M&A deals in this space:
Mitratech acquired TalentReef
Based out of the US, TalentReef is an operator of cloud-based recruiting and talent management software platform intended for hourly and decentralized workers. The company's platform offers candidate sourcing, assessments, background checks, quality benchmarks and compliance, thereby enabling the organisations to optimize recruiting, hiring and employee retention.
The acquisition comes on the heels of Mitratech acquiring AssureHire, an emerging leader in tech-enabled background screening and verifications. TalentReef will integrate with both Tracker I-9 and AssureHire to provide a seamless and highly compliant onboarding experience for hourly workers.
SocialTalent acquired Careercake
Acquiring Careercake's award-winning video content made complete sense as SocialTalent scale and accelerate the launch of new solutions. Careercake content is central to SocialTalent's latest solutions for onboarding and internal mobility, which are launching very soon.
Jobvite acquired Lever
Jobvite expanded its product portfolio with the acquisition of Lever, a leading developer of recruitment software designed for talent acquisition leaders, hiring managers and executives. With this transaction, Jobvite extends its product portfolio designed to meet the unique recruiting and talent acquisition needs of organisations of any size.
Bullhorn acquired Sourcebreaker
Leading recruiting software provider, Bullhorn recently acquired Sourcebreaker, a developer of an artificial intelligence-driven search and match platform designed to provide recruiters talent matching solutions for hiring talented people. The acquisition will further enhance Bullhorn's portfolio of solutions for talent engagement across the entire candidate lifecycle, from sourcing to engagement, onboarding, and redeployment.
Next Steps: Book a Consultation
As seen in this article, cloud-based recruiting and talent management software platforms have become a critical component of HR operations, offering companies an efficient, flexible, and cost-effective solution to manage their talent.
With M&As becoming a common trend in the industry, companies are poised to offer even more comprehensive solutions to their customers, helping them stay ahead of the curve and remain competitive in a rapidly changing business landscape. Want to discuss your business' M&A requirements? Book a complimentary consultation with one of our specialist M&A Advisors here.