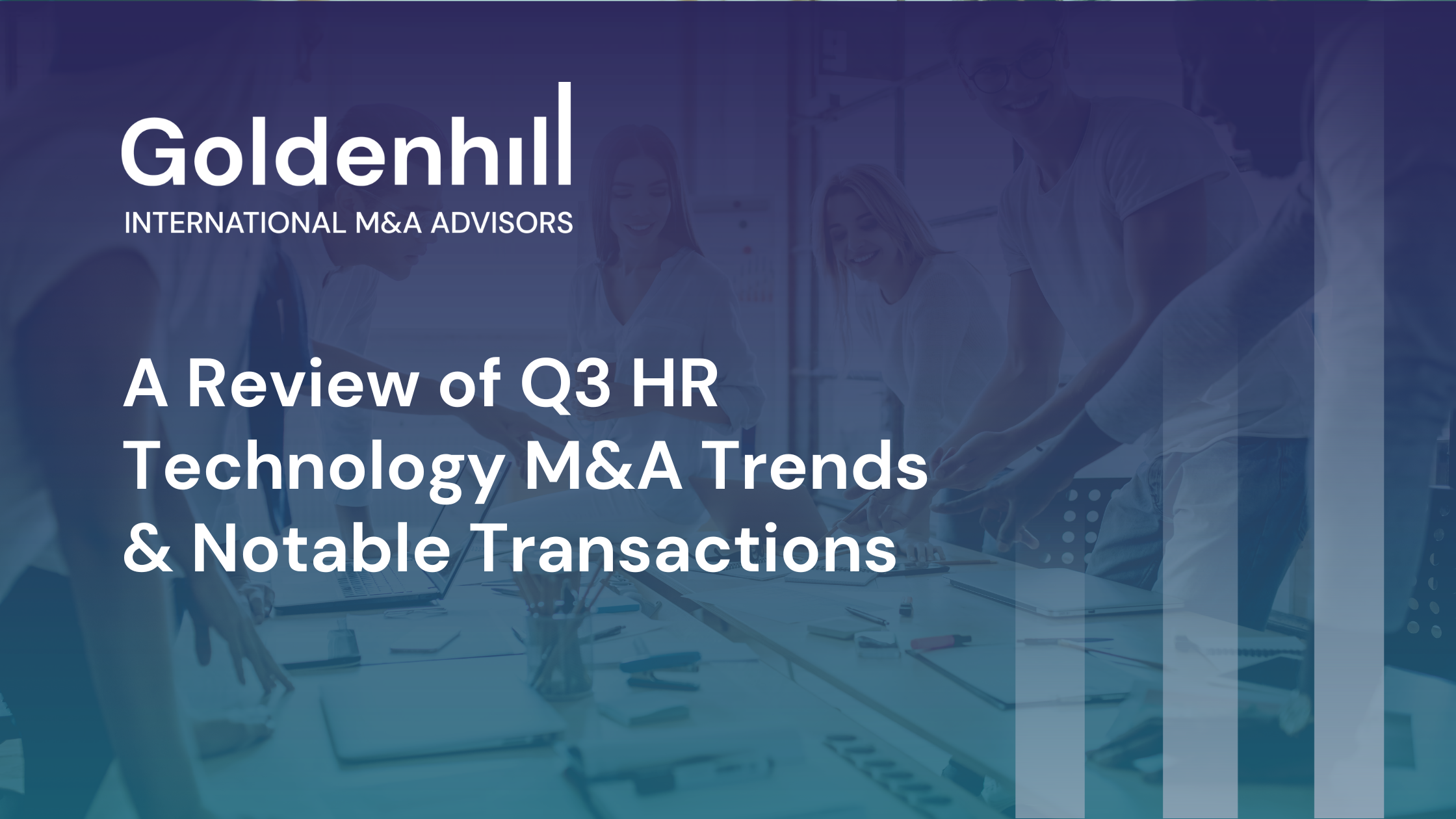 A Review of Q3 2023 M&A HRTech Trends
In the HRTech sector Q3 of 2023 witnessed a significant surge in activity, leaving an indelible mark on the industry landscape. The acquisition of eight prominent companies underscores the transformative potential of HRTech within healthcare operations.
Private equity-backed entities have embraced a more measured approach to investments, signifying a strategic evolution that promises to shape the future of mergers and acquisitions within the sector. This article provides a review of Q3 2023 M&A HRTech M&A trends and explores the resilience of the market, despite a challenging microenvironment and a dip in volumes from the previous quarter.
M&A Roundup
In the Healthcare sector, the adoption of HRTech experienced a substantial surge this quarter, resulting in the acquisition of eight companies. A comparative analysis between 2022 and 2023 highlights a shift in M&A trends, with 2023 exhibiting a more discerning and opportunistic approach, particularly among Private Equity (PE)-backed enterprises, which are taking a measured stance towards investments.
While the overall deal volume decreased in Q3 compared to Q2 of 2023, with 61 deals in the current quarter versus 86 in the prior period, Talent Development emerged as the most active sub-sector, accounting for 41% of total reported deals, followed closely by Talent Attraction at 26%.
Notably, public company valuations faced a slight dip in both large and small cap categories during the quarter. Despite this, the M&A market for HR Technology remained robust across various sectors, even amid a challenging macroeconomic environment, indicating a resilient industry.
Unlocking healthcare HRTech
This quarter was marked by a notable interest in the healthcare industry and a surge in healthcare HRTech transactions, with a specific focus on workforce management and talent development deals.
Healthcare companies weren't spared from recent business challenges; the industry has been navigating unpredictable financial waters, grappling with staff turnover, inflation, and the broader economic landscape. However, there's a glimmer of hope on the horizon. The industry has recently begun to regain its footing, thanks to increased labor force participation and reduced quit rates.
Healthcare leaders recognize the importance of investing in technology. Many health systems have turned to enhancing their workforce management practices and educating and training their employees to make them more efficient and ready to face outpatient migration, reimbursement pressures, and payer mix dynamics, which continue to loom as long-term threats.
Notable transactions of healthcare HRTech companies this quarter include Aya Healthcare's acquisition of Polaris AI, an AI-based healthcare staffing and scheduling platform, and Home Care Pulse's acquisition of Teaching Transitions, a training platform for staff and volunteers, to reinforce Home Care Pulse's position as the education solution for hospice providers.
A Comparative Analysis of Serial Buyers in 2022 and 2023
Inspired by the absence of serial buyers this quarter, we delved into the significant difference in the number of serial buyers recorded in 2022 and observed so far in 2023. Known for making multiple acquisitions within a year, serial buyers provide valuable insights into the broader M&A landscape and its underlying drivers.
Comparing the numbers, it becomes clear that 2022 witnessed a higher influx of serial buyers. Interestingly, the buyers with the highest combined number of HRTech acquisitions (5 acquisitions) had completed 4 acquisitions in 2022 and just 1 in 2023, which clearly shows this stark disparity.
This year, M&A appears to be more selective and opportunistic, with entities carefully considering their acquisitions. Of the 46 serial buyers in 2022 and 2023, a substantial 61% are PE-backed companies. This trend indicates a cautious and selective M&A strategy by these buyers, emphasizing a more measured approach to expansion and consolidation.
Download Our Latest Report
Our Q3 2023 M&A HRTech report looks at the transformative surge witnessed in this quarter, resulting in the acquisition of eight prominent companies. Explore the strategic shifts in M&A strategies, discover the active sub-sectors, and gain valuable insights into valuation trends, by downloading our latest report here.
Author: Philip Albright
Partner
Highly-experienced M&A advisor with a particular emphasis in HR Technology (HRTech) and the Human Capital Management sector globally; assignments range from working with leading SaaS businesses in HRTech as well as continuing to advise traditional recruitment and staffing firms.
In my career spanning more than 25 years, I have advised on Workforce Solutions sector M&A transactions in over 30 countries throughout the world. I work with both buyers and sellers of businesses within these fields.
Additionally, I have a strong personal interest in the related fields of data science, machine-learning and Artificial Intelligence. I also work closely alongside the ESG M&A team and assist the team with M&A deals within the ESG sector.
If you are an owner or senior executive of a HR-or ESG-related business interested to discuss how M&A could help you accomplish your objectives – please get in touch.