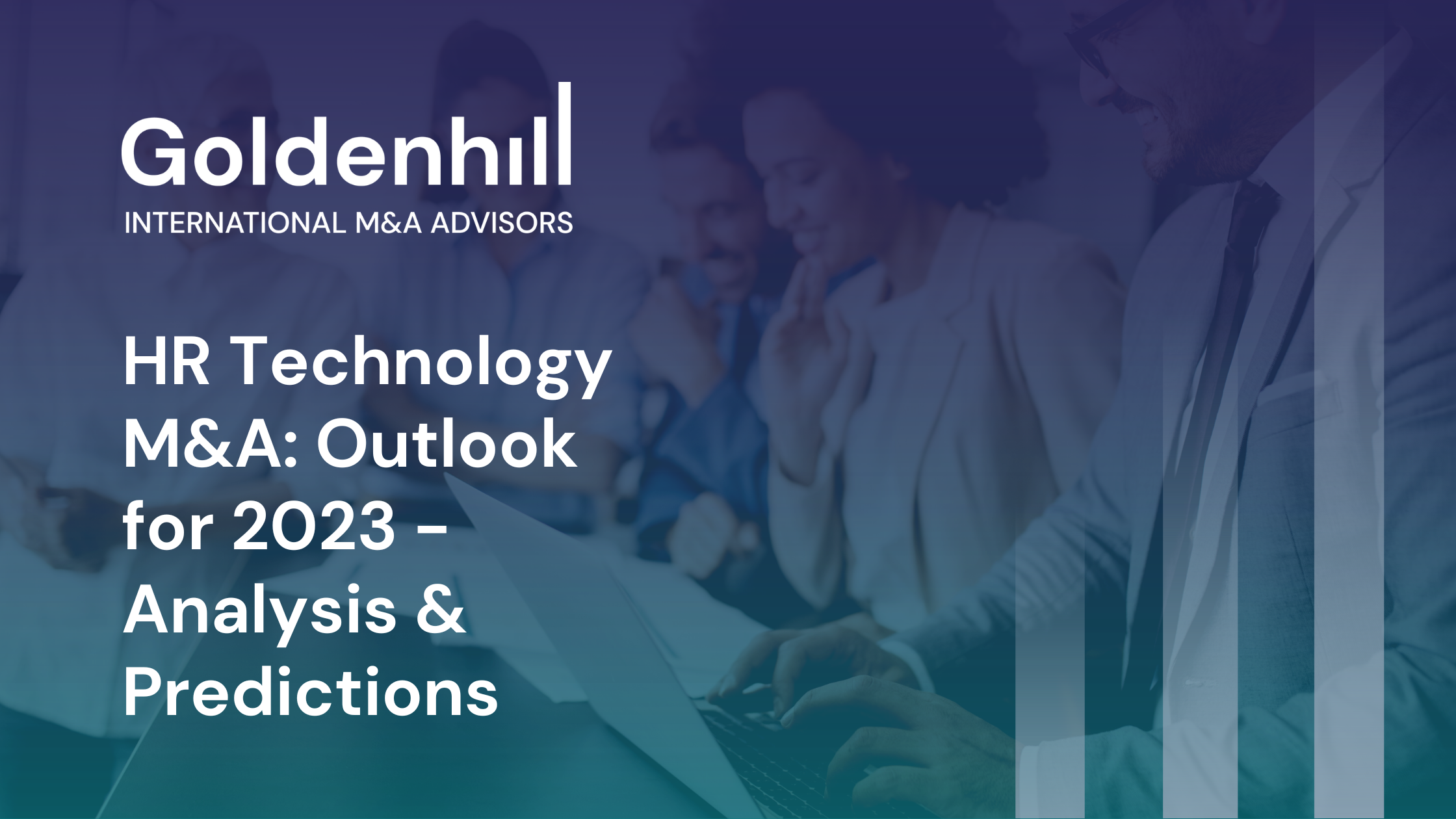 HR Technology M&A: Outlook for 2023 – Analysis and Predictions
Introduction
As we look ahead at the next 12 months, the M&A landscape is expected to maintain its current levels of activity and valuations. While a potential lower GDP growth rate may have an impact, it's likely to be offset by a more challenging venture funding environment.
This could cause some firms to consider M&A as an alternative to securing additional funding rounds. Valuations are also predicted to remain stable, with the potential for slight improvement as the year progresses.
When it comes to specific sectors, Talent Attraction and Talent Development are predicted to remain the most active subsectors this year.
As seen in our latest HRTech report, in 2022, Talent Development was the most active sub-sector, recording 30% of identified deals, followed by an equal number of deals across Talent Attraction and Workforce Management, each representing 26% of the total deal volume.
We also predict that strategic buyers will continue to drive most transactions, as they look to expand their capabilities and offerings through M&A.
Public Markets Overview – Review of 2022
The aggregate market cap for our selected public companies in the sector saw their aggregate market capitalisation decline by over $60m, which is reflective of the sell-off in the wider markets. The Goldenhill HRTech index showed similar movements to the NASDAQ and S&P indices throughout each quarter in 2022.
The public companies in our data set with the largest declines in 2022 were Fiverr and Upwork which each lost about 70% of their market cap in the period. Notably, Healthequity, a leading benefits administrator, outperformed the category with a 41% annual gain.
Publicly traded large cap HRTech companies amongst our data set experienced an average decline of 28% in valuation in 2022, relative to 2021.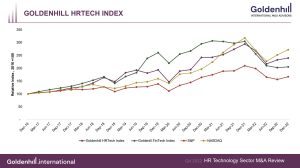 Revenue Growth as a Value Driver
Revenue growth continues to be one of the most important drivers for higher valuations. The companies who exhibited the highest expected revenue growth in 2022 were online payroll and HR technology provider Paycom and DHI, a provider of career marketplaces.
While EBITDA margins for large-cap public companies improved from an average of 16% in 2021 to a forecasted 25% in 2022. Strategic buyers remained the largest category of acquirer representing 93% (2021: 89%) of transactions.
The geographic mix was like the year prior to this, with roughly half of all buyers headquartered in North America, while cross-border transactions accounted for 38% of transactions.
M&A as a Growth Strategy
Overall, 2023 looks to be another active year for M&A and we are here to help you navigate through the process. To find out more about HRTech M&A, view our latest reports here.
If you are considering M&A as a growth strategy for your business, get in touch with one of our specialist M&A Advisors for a complimentary discussion.
Author: Philip Albright
Partner
Highly-experienced M&A advisor with a particular emphasis in HR Technology (HRTech) and the Human Capital Management sector globally; assignments range from working with leading SaaS businesses in HRTech as well as continuing to advise traditional recruitment and staffing firms.
In my career spanning more than 25 years, I have advised on Workforce Solutions sector M&A transactions in over 30 countries throughout the world. I work with both buyers and sellers of businesses within these fields.
Additionally, I have a strong personal interest in the related fields of data science, machine-learning and Artificial Intelligence. I also work closely alongside the ESG M&A team and assist the team with M&A deals within the ESG sector.
If you are an owner or senior executive of a HR-or ESG-related business interested to discuss how M&A could help you accomplish your objectives – please get in touch.