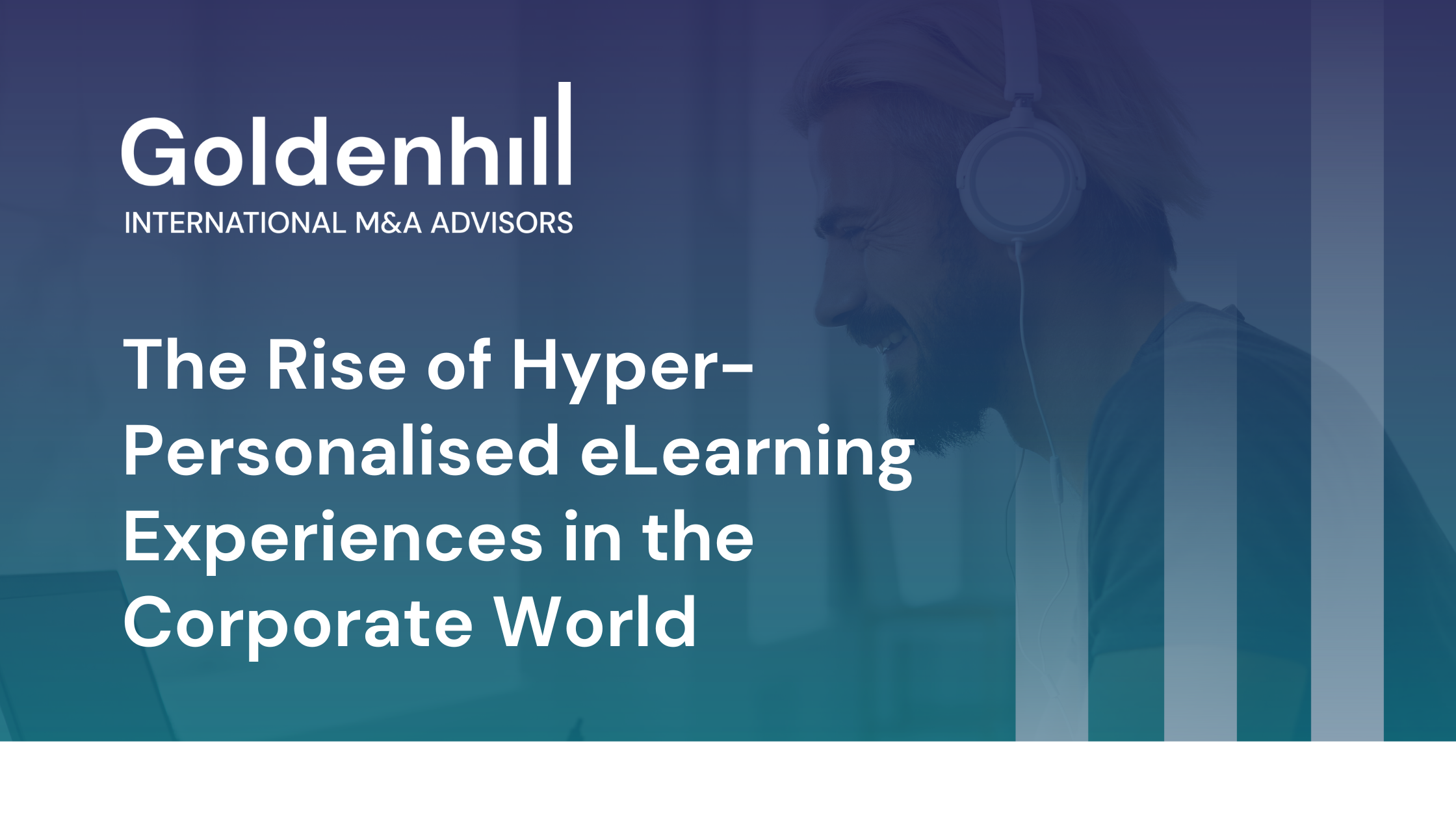 The Rise of Hyper-Personalised eLearning Experiences in the Corporate World
The workplace in the modern world is changing. Remote and hybrid working models have placed new demands on employees who may require a new set of skills to accommodate working from home. Because of this that employees are now adopting digital e-learning strategies to address any skills gaps and foster a culture of learning on-the-go.
Nearly 49% of organisations have already increased their learning and development spend in 2022 and are implementing a combination of social learning, on-demand learning (resources, apps, and e-learning platforms) and individualised learning (via podcasts, conferences, and webinars).
In this article, we look at popular eLearning trends dominating the corporate world and review recent e-learning software related M&A activity.
AI and Learner-Centred Design
AI has become one of the most popular eLearning trends in the business world today, with the world's AI in the education market predicted to increase to $3.68 billion by 2023.
This is mainly because of its ability to personalise learning and create hyper-personalised learning experiences and automate the creation of eLearning courses.
AI, in the eLearning setting, is a data driven approach that provides personalised learning paths for everyone, using machine learning algorithms to predict results and adapt content to reflect the individual's expertise and preferences.
VR and Gamification
Utilising VR for training allows HR departments to access a unique window into how employees learn by capturing key data such as attention and engagement. How a learner performs during training closely indicates how that person will perform in real life. This data is used to optimise learning and performance.
Metasim is a company that creates immersive and authentic virtual reality experiences that help people-leaders practice core leadership skills in a highly realistic and engaging environment, free of fear and judgment.
Furthermore, VR can be used in the digital employee onboarding process. Gamification can be utilised in this process as fun games and interactive tasks in the virtual world can test new hires for stress tolerance as well as check their reactions, decision-making and professional skills
Video-based Learning
Forrester research reports that employees are 75% more likely to watch a video than to read a document, email, or article. This type of learning allows employers to blend visual and audio media in a way that provides the most effective training for producing long-term retention results.
Video-based learning is, therefore, an effective training strategy that produces much higher retention results than the traditional classroom training setting.
Mobile-First Courses
Mobile-first courses are in high demand, with the mobile learning market expected to reach more than $280 billion by 2027.
In the past, the primary focus was providing access to online content on a desktop, and the mobile device was an afterthought. Now, smartphones are recognised by many employers as the perfect platform for micro-learning, allowing employees to access training on-the-go and in bite-sized chunks.
Mobile devices furthermore allow greater accessibility for 'on the go' learners, with 99% of learners stating that this form of learning improves their experience.
Chatbots and Virtual E-learning Assistants
E-learning platforms that use chatbots and virtual assistants can help individuals navigate course material in a friendlier way and respond to any questions or queries efficiently.
Chatbots and virtual assistants therefore deliver relevant information where needed, which means better support for learners and more productive use of employees' time.
M&A Activity
EduBrite, Careercake and Pellcomp (Trinity Software Limited) have all recently been acquired by leading e-learning solutions providers such as LinkedIn, SocialTalent and Pave, which showcases the increasing demand for personalised e-learning experiences.
While Strivr, one of the fastest emerging VR-based immersive learning providers raised a $30m Series B round led by Georgian Partners in April 2022 to expand adoption of immersive learning to help companies elevate workforce engagement and performance.
Find out more about recent HRTech M&A activity here.
Next Steps
By harnessing the power of digital technology, companies can offer personalised eLearning at scale and gain a competitive advantage over those who do not offer their employees the opportunity to learn and develop their skillsets.
If you are a HR technology company selling e-learning software to businesses, to support their workplace needs, we are the people you need for support with your mergers and acquisitions. Get in contact with one of our M&A Advisors here.
Author: Philip Albright
Partner
Highly-experienced M&A advisor with a particular emphasis in HR Technology (HRTech) and the Human Capital Management sector globally; assignments range from working with leading SaaS businesses in HRTech as well as continuing to advise traditional recruitment and staffing firms.
In my career spanning more than 25 years, I have advised on Workforce Solutions sector M&A transactions in over 30 countries throughout the world. I work with both buyers and sellers of businesses within these fields.
Additionally, I have a strong personal interest in the related fields of data science, machine-learning and Artificial Intelligence. I also work closely alongside the ESG M&A team and assist the team with M&A deals within the ESG sector.
If you are an owner or senior executive of a HR-or ESG-related business interested to discuss how M&A could help you accomplish your objectives – please get in touch.