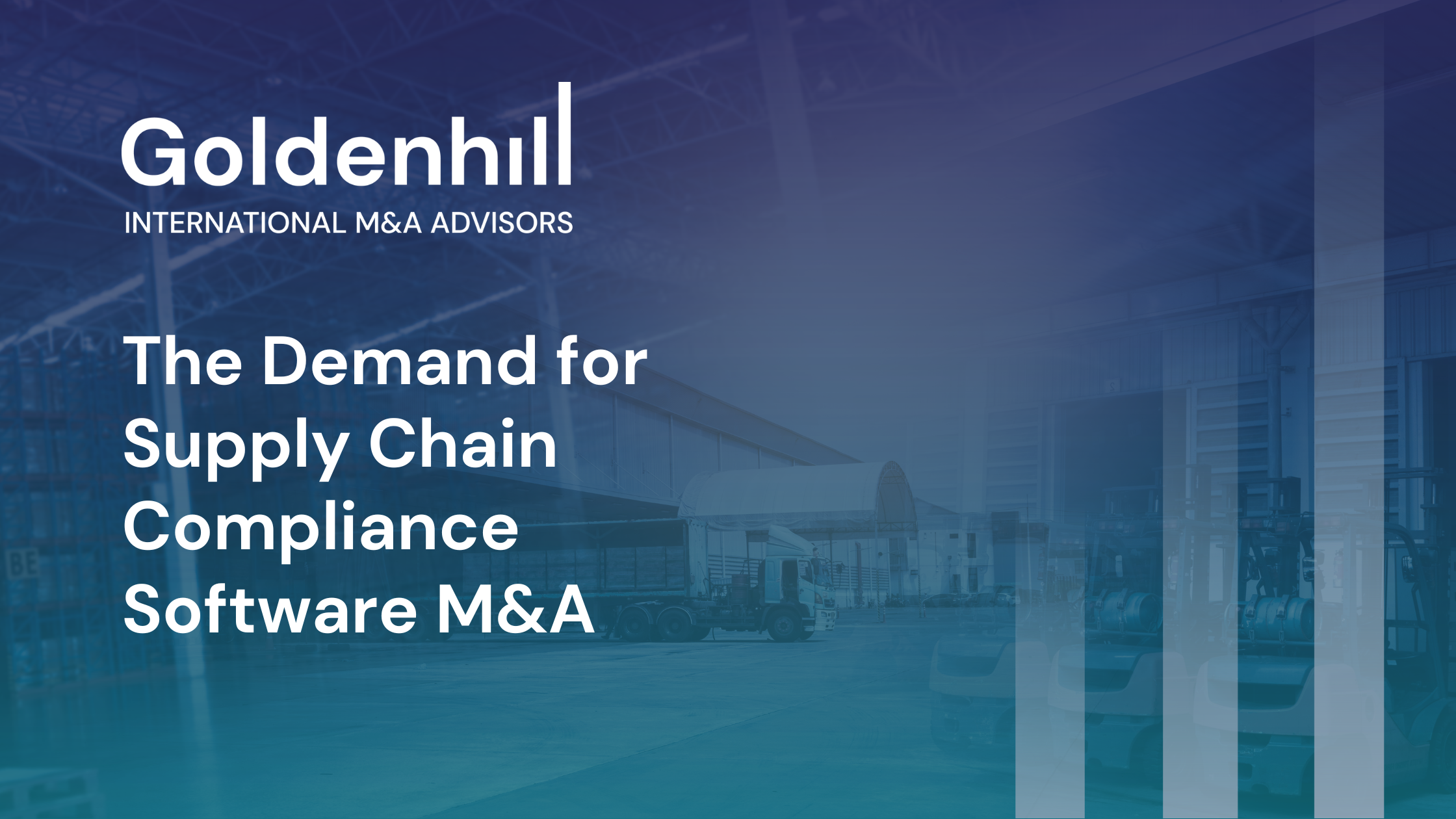 Why Supply Chain Compliance Software Solutions are Attracting Significant Interest in the M&A Market in 2023
Supply chain compliance and ESG management has become paramount in 2023, as companies seek to improve their carbon footprint, adhere to regulatory frameworks and requirements, and align their ESG strategies. These factors have all contributed to the rise in M&A activity in the market, and a growing demand for software that can assist companies in the design, planning, execution, control and monitoring of supply chain activities.
This article will be looking at why supply chain compliance and ESG management software solutions are contributing to the rise of ESG M&A in 2023, while also reviewing the most recent transactions in the supply chain compliance and ESG management software space.
Growing Emphasis on Sustainability
The growing awareness of the environmental and social impact of business operations has led to an increased emphasis on sustainability. This comes at a time when visibility into supply chains takes centre stage. For many organisations Scope 3 emissions constitute the majority of their overall carbon emissions, so to get to Net Zero they have to be able to measure and monitor their supply chain. In a recent Gartner survey, 72% of supply chain leaders acknowledge that climate change impacts may affect their ability to deliver an effective supply chain strategy. It has therefore now become among one of the top priorities among supply chain leaders, as regulatory corporate pressures mount.
Companies therefore are striving to align their operations with environmental standards, ethical labour practices, and regulatory compliance, such as Mandatory Climate Disclosures. As a result, the demand for supply chain compliance and ESG management software solutions has surged. Acquiring companies see strategic value in integrating these solutions to enhance their sustainability initiatives and strengthen their market position.
Stakeholder Expectations and Investor Focus
Stakeholders, including investors, customers, employees, and communities, are increasingly demanding transparency and accountability in business practices. Investors are prioritising ESG factors in their investment decisions, recognising the long-term value of sustainable companies.
These solutions are providing companies with the opportunity to monitor environmental and social practices, such as low-impact production and manufacturing, low-carbon transportation and logistics, raw materials sourcing, and supply chain circularity.
Integrated Risk Management
Supply chain disruptions can significantly impact a company's operations and bottom line. Acquiring supply chain compliance and ESG management software solutions helps companies effectively identify, mitigate, and manage risks throughout their value chains.
These solutions provide real-time monitoring, data analytics, and reporting functionalities, enabling companies to detect vulnerabilities and take prompt corrective actions. By incorporating these software solutions, acquirers can enhance their risk management frameworks and safeguard their operations against potential disruptions.
Transparency and Reporting
Investors increasingly demand transparency and accurate reporting on ESG metrics from the companies in which they invest. Supply chain compliance software provides companies with the tools to collect, analyse, and report on ESG data throughout their supply chains. This enables investors to assess a company's compliance efforts and understand the potential risks and opportunities associated with its supply chain operations.
William Berrington, M&A Advisor at Goldenhill International M&A Advisors says:
"The consolidation in this market is indicative of the growing significance of supply chain compliance and ESG management in M&A transactions. Companies are no longer solely focused on financial metrics but are actively seeking partners that align with their sustainability goals. This shift in mindset has paved the way for software companies specialising in supply chain compliance and ESG management to be extremely attractive acquisition opportunities for acquirers in the market."
Supply Chain Compliance and ESG Management Software M&A
Recent notable M&A transactions and funding rounds in this space include the following:
SourceIntelligence acquires ChainPoint
The acquisition of ChainPoint, which specialises in helping companies monitor supply chains by connecting systems and information, enables Source Intelligence to better serve their clients in managing and improving sustainable supply chains while reducing cost and risk.
Novisto Raises $20 Million in Series B Funding
In a Series B funding round led by Inovia Capital, Novisto, a UK-based ESG data management software company, secured an impressive £20 million in new funding. Novisto leverages AI to provide organizations with comprehensive ESG data analytics and reporting capabilities. This new funding will fuel Novisto's expansion and further enhance its platform, empowering businesses to make informed ESG decisions and improve sustainability practices.
CarbonChain Raises $10 Million in Series A Funding
CarbonChain, an AI-powered carbon accounting platform, announced a $10 million Series A funding round co-led by Union Square Ventures and Voyager Ventures. Their platform automates emissions tracking for carbon-intensive supply chains, enabling industries like metals, mining, and manufacturing to measure and manage their environmental impact more effectively. The funding will support CarbonChain's mission to provide accurate and scalable carbon tracking solutions to combat climate change.
Makersite Secures $18 Million in Funding
Makersite, offering carbon footprint software and AI-powered product lifecycle intelligence, successfully completed an $18 million funding round. The investment was led by Hitachi Ventures and Translink Capital, with participation from KOMPAS and seed investor Planet A. Makersite's platform utilizes AI and data analytics to enable faster and more sustainable decision-making in procurement, product design, and supply chain management. This funding will allow Makersite to expand its capabilities and cater to a broader range of industries.
Everstream Analytics Raises $50 Million in Series B Funding
Everstream Analytics, a global supply chain insights and risk analytics firm, closed a significant $50 million Series B funding round co-led by Morgan Stanley Investment Management's 1GT Platform. Everstream Analytics offers real-time monitoring and predictive analytics to mitigate supply chain risks and improve operational efficiency. The funding will support the expansion of Everstream Analytics' global presence and the development of innovative supply chain solutions.
Supply chain compliance and ESG management software solutions are rapidly gaining traction in the M&A market, as this article has explored. This is primarily due to their ability to improve due diligence, mitigate risks and liabilities, meet stakeholder expectations, and drive operational efficiency, especially in relation to supply chain management.
By leveraging robust software solutions in supply chain compliance and ESG management, acquirers can make informed decisions and foster long term success. If you are looking to explore a potential sale process or to acquire in the tech ESG sector, then book a M&A consultation with one of our specialist M&A Advisors here.
Author: William Berrington
Partner
William is a highly experienced M&A advisor with a particular emphasis on ESG and HR Technology globally. His previous assignments include working with leading businesses in ESG (Environmental, Social and Governance) software and data and HR Technology (HR Tech).
William has previously advised on Technology sector M&A transactions in more than 12 countries, working on transactions on the sell-side and buy-side. He was a Chartered Accountant and before Goldenhill and worked in several corporate development roles for blue chip technology companies and also for a private markets firm.
If you are an owner or senior executive of a Technology business interested to discuss how M&A could help you accomplish your objectives – please get in touch with William below.