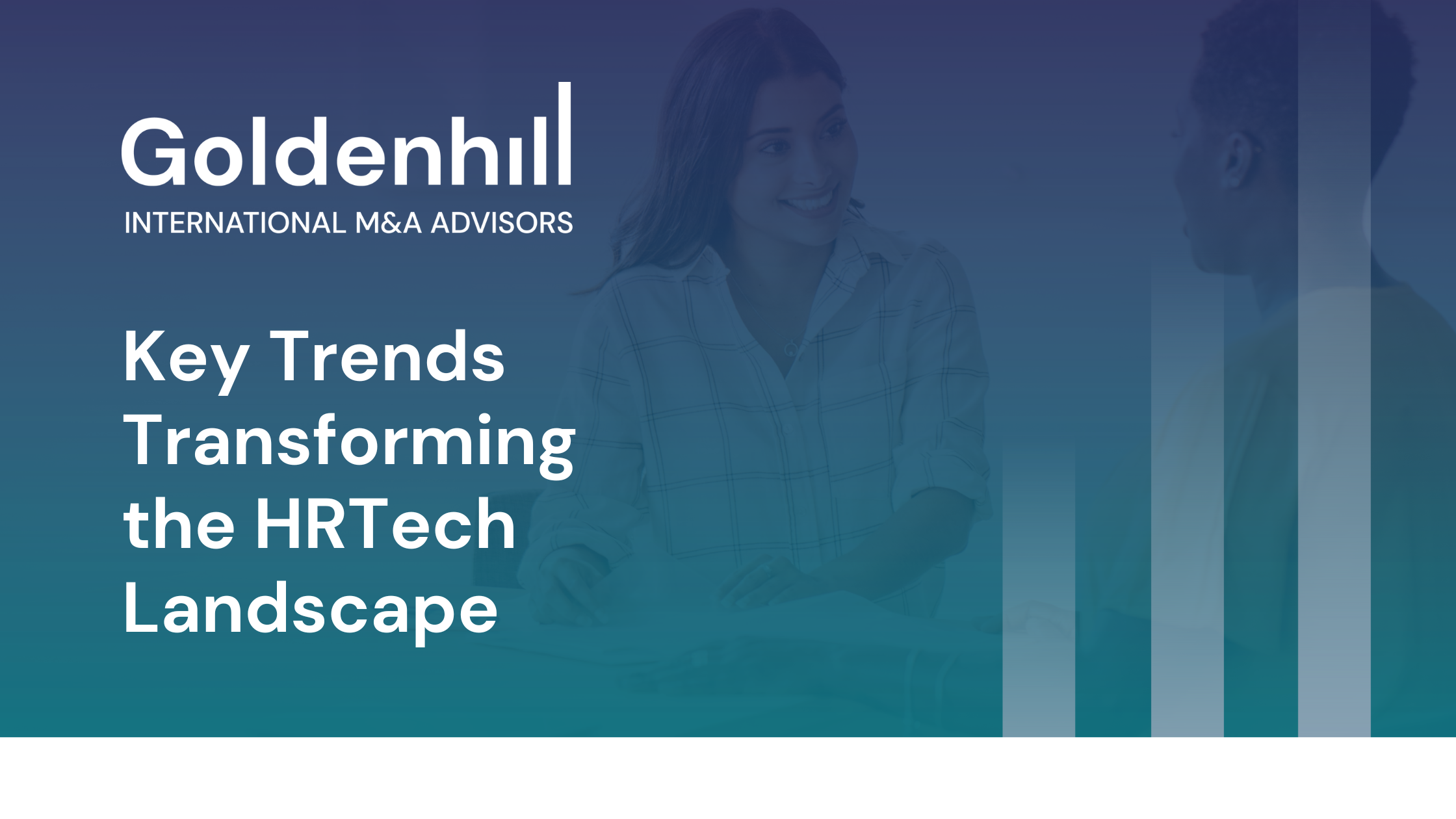 Key Trends Transforming the HRTech Landscape
The HRTech landscape has witnessed rapid changes and advancements over the past year, with the normalisation of hybrid working transforming how the global workforce functioned, and leading to the development of new technologies within the sector. We discuss the key trends transforming the HRTech landscape which HR leaders should consider over the coming months:
Heightened adoption of AI-powered tools
The adoption of Artificial Intelligence (AI) within HR Technology software products has grown significantly in recent years and its usage is set to increase.
In talent selection, the use of AI technologies can help HR leaders predict which candidates will excel in a given role, by aiming to improve and re-engineer the traditional approach of reviewing résumés to select candidates for interview. Examples of companies within this space include Outmatch, Hirevue and Modern Hire, who have all made multiple acquisitions of talent selection tools.
Additionally, leveraging AI for people analytics continues to be a growing area, allowing companies to track employee schedules, predict staffing requirements and identify actionable areas for improvement, thus preventing missed business opportunities.
Given the clear benefits and rapid pace of technological advancement within AI, this trend is likely to continue for some time to come.
Increased focus on Diversity, Equity and Inclusion (DE&I)
There has been an increasing focus on Diversity, Equity and Inclusion (DE&I) in HRTech, with organisations increasingly turning to Artificial Intelligence (AI) powered technologies to address these concerns.
Companies recognising DE&I, are adapting, recovering and performing at a better rate, and its importance is paramount to address and mitigate the inherent biases and inequalities in the workplace. Additionally, this shift in focus and use of technology can improve employee well-being and avoid high staff turnover, by providing eye-opening DE&I numbers, that without the use of a solution, might not be immediately evident.
As a result, the number of technology vendors serving the DE&I market has grown by 87% since 2019, with examples including, ADP's DataCloud DEI Dashboard, and Kanary's platform.
Due to the increasing role and clear benefits these technologies bring to organisations, the HRTech sector will see further consolidation as these products continue to gain traction and scale.
Employee happiness, well-being and work-life balance is a top priority
HR leaders are continuing to prioritise employee happiness, well-being and work-life balance, as hybrid working has proved its here to stay.
A focus on employee happiness and well-being, boosts productivity and workplace resilience, whilst lowering staff turnover, reflecting the benefits to both the employee and employer. In the US alone the corporate well-being market is now estimated to be $20.4 billion and is forecasted to grow to $87.4 billion by 2026, demonstrating the vast growth of this HRTech trend. Examples of corporate well-being solutions include Lyra Health, Limeade and meQuilibrium.
Additionally, employers are increasingly looking at work-life balance initiatives as employees' personal and professional lives are becoming harder to distinguish, as a result of remote working blurring the lines. This increasing focus is crucial in preventing staff turnover and boosting employee satisfaction.
This trend is expected to continue in the coming months with these priorities being further integrated into businesses processes, as flexible working is now normalised.
Continued and heightened emphasis on employee engagement
Companies are increasingly emphasising employee engagement to maximise productivity. Increased engagement creates a workplace where staff are aligned and committed to the business, resulting in maximised efficiency. According to Kenexa research, engaged companies reported five times higher shareholder returns over five years, reflecting the necessity of this focus for HR leaders.
Technology examples include NickNack Ltd, who offer engagement activities to recreate the office environment, regardless of location, and PepTalk, who offer a unique team engagement and action platform that enables managers and teams to perform at their best.
The future of the HRTech landscape
Due to the clear benefits to both employer and employee, this heightened focus on employee engagement will continue in the upcoming months.
As a result of the ever-changing landscape, and clear benefits provided by these solutions, HR leaders will need to continually adopt new technologies in order to maximise employee potential and achieve business goals. Find out more information on our work in the HR Tech sector here.
Author: Philip Albright
Partner
Highly-experienced M&A advisor with a particular emphasis in HR Technology (HRTech) and the Human Capital Management sector globally; assignments range from working with leading SaaS businesses in HRTech as well as continuing to advise traditional recruitment and staffing firms.
In my career spanning more than 25 years, I have advised on Workforce Solutions sector M&A transactions in over 30 countries throughout the world. I work with both buyers and sellers of businesses within these fields.
Additionally, I have a strong personal interest in the related fields of data science, machine-learning and Artificial Intelligence. I also work closely alongside the ESG M&A team and assist the team with M&A deals within the ESG sector.
If you are an owner or senior executive of a HR-or ESG-related business interested to discuss how M&A could help you accomplish your objectives – please get in touch.