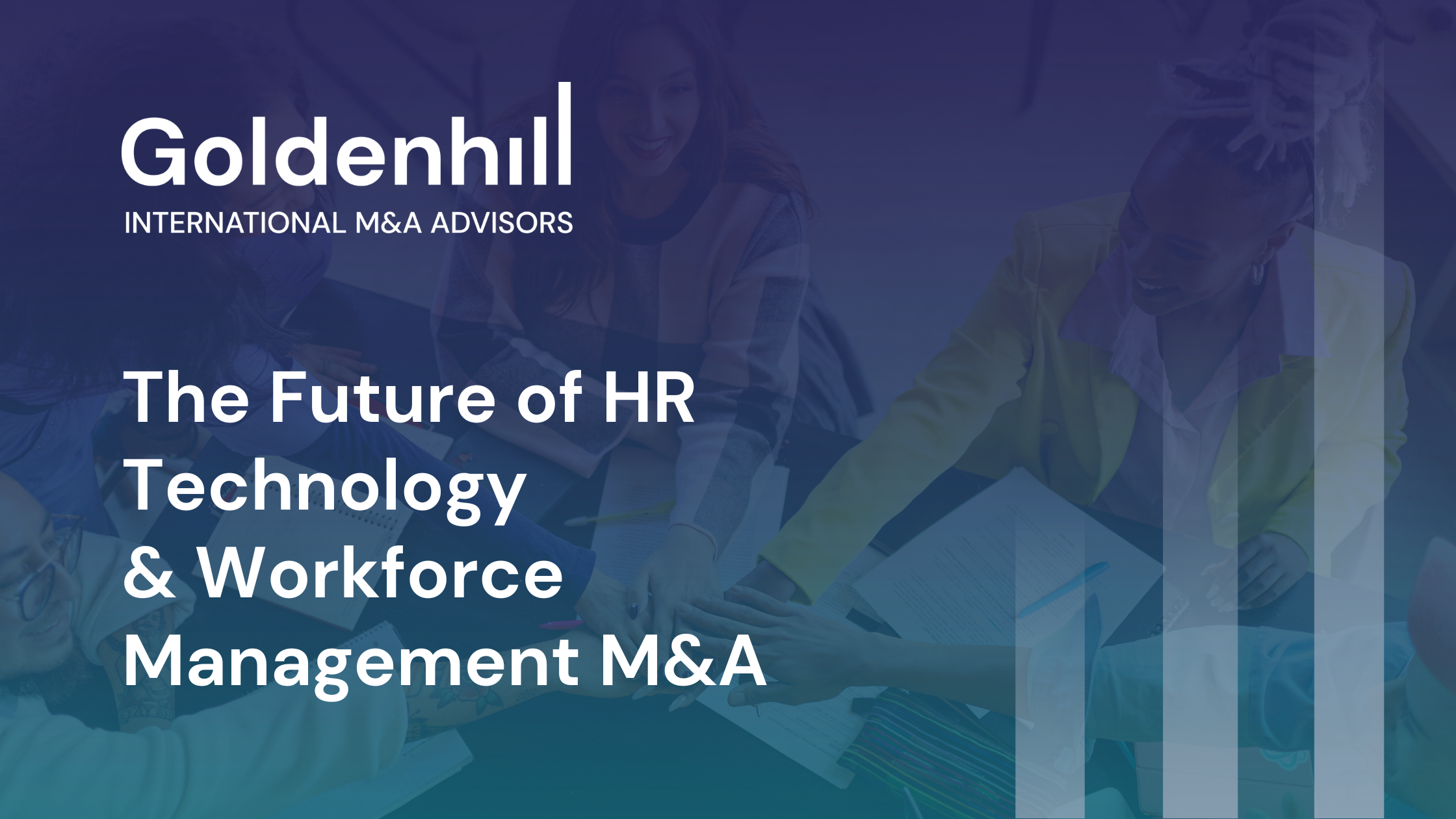 The Future of HR Technology & Workforce Management M&A
HR Technology is evolving rapidly and proving to be a game-changer for companies across verticals. So far, the industry has witnessed the rapid digitisation and acceleration of HR processes, with many employers leveraging cutting-edge technologies such as Artificial Intelligence (AI), Virtual Reality (VR) and Machine Learning (ML) to improve employee engagement within the workplace.
In 2022, there was a significant rise in popularity in SaaS platforms like zero-touch applicant tracking systems to assist HR departments with performance management, workforce planning and promoting employee development.
As the HR technology and workforce management sectors continue to evolve and grow, so does the number of mergers and acquisitions (M&A) happening in the industry. These transactions are shaping the future of HR technology and transforming the way companies manage their workforce. In this article, we will dive into the latest trends and developments in the HRTech and workforce management M&A landscape.
Gen Z workforce lead demand for Workplace Digitisation
In the coming years, it is predicted that Generation Z will comprise as much as 27% of the global workforce by 2025. This new wave of employees in the age of digital transformation brings with it a new set of priorities and perspectives on the workplace, with many HR departments now making digital employee experience (DEX) a priority.
Over half of the Gen Z workforce (54%) crave better digitalisation across HR processes and solutions in the workplace, highlighting a sharp focus on digital solutions that bring improvements like speed and convenience to the employee experience.HR departments are now leveraging new software in a bid to stay relevant to the next generation of workers and creating a strong and attractive company culture.
Acquisitions in this vertical include that of employee benefits platform, Re: benefit, who raised $1.2M from three Bulgarian VCs in November 2022. The investment follows the rapid early-stage growth and product adoption of the HR management solution of Re: benefit in 2021 and 2022. While Australia-based HR provider, Humanforce, recently acquired HR software firm Ento and AI powered recruitment platform and mobile job search software provider, Workruit raised over $500,000 in pre-Series A round.
"Overall, 23.1% of Gen Z employees said that they are more likely to be won over by a company's digital approach during the recruitment process, a figure which points to rising value of digital approaches in the workplace war for talent."
Digitised Apprenticeship Programs take Centre Stage
With predictions that upskilling could boost global GDP by $6.5 trillion and create over five million new jobs by 2030, there is new demand for software that enables employers to create, manage and expand apprenticeship programs, to help accelerate the productivity of new workers.
HR Technology providers such as BuildWithin, are at the forefront of this trend and well-positioned to capture a significant piece of the corporate training market. Such software, which allows access to on-demand training materials, enables employers to accelerate team member productivity utilising apprenticeships.
Apprenticeship management software is increasing administrative efficiencies by 99.7% allowing employees to track the progress of their apprentices, measure program ROI, and build a more diverse and inclusive (DE&I) apprenticeship program.
Acquisitions in this vertical include that of BuildWithin who recently launched $2.4M in pre-seed funding and $8M in government grants to help employers create, manage, and expand apprenticeship and upskilling programs. Similarly, apprenticeship training provider, Apprentify, recently announced a £5 million investment from UK-based investor, BGF.
Cutting-edge Technologies are accelerating the Recruitment Process
1 in 6 HR leaders are using virtual reality (15%) and nearly 1 in 5 (18%) are using other technologies such as AI, blockchain and Machine Learning (ML), to support their recruitment efforts and attract the next generation of talent.
The average recruitment firm currently automates more than 20,000 emails, texts and tasks each year, saving time, money and resources and increasing the reliability of the recruitment process. Many businesses at present are also using Machine Learning (ML) algorithms to identify data patterns in a candidate's interview answers, resume, social media profiles to score and summarise the pros and cons based on all the required job qualifications.
Recent acquisitions in this space include HCM provider, Paycor who acquired AI recruitment platform Talenya in October 2022, enabling the company to reduce time to fill critical roles by souring candidates actively looking to change jobs.
Similarly, healthcare recruitment platform Apploi recently acquired shift management tool OnCall allowing users to plan staffing levels and AI based recruitment firm Sapia.ai, formerly known as PredictiveHire, raised $17 million in Series A funding.
A shift to end-to-end Employee Feedback Software
Creating a transparent and trusted relationship between employees and their employer has never been more critical. Company leaders are now beginning to recognise that gathering feedback from employees is crucial for helping to uncover employee challenges, improve company culture and make better business decisions, to drive future productivity and growth.
End-to-end employee feedback software allows HR departments to handle employee feedback anonymously, while also allowing employees to give honest feedback without fearing reprisal. It is also being used to set up feedback channels (through SMS surveys, in office on tablets, through emails) and measure metrics like Employee Satisfaction and Employee Net Promoter Score (eNIPS).
Recent acquisitions in this space include Visma, one of European leaders in job management software, who recently acquired Belgian tech scale-up. Beeple, a planning and communication tool for companies working with shift workers. While HR management and employee relations software platform, HR Acuity acquired anonymous workplace reporting platform Speakfully, to accelerate HR Acuity's leadership in employee relations case management and investigations.
"33% of employ reported they provided feedback either once a year or never, indicating some organisations are still isolating their employees through outdated processes."
Contact Our Specialist M&A Advisors
Thinking of taking your business to the next level through a merger or acquisition? Let our team of HRTech M&A experts guide you through the process and uncover the best opportunities for you. Start by scheduling a free, no-obligation consultation with us.
Our specialists will take the time to understand your business needs and provide insight into the benefits and challenges of M&A. Contact us today to schedule your complementary discussion with one of our M&A specialists.
Author: Philip Albright
Partner
Highly-experienced M&A advisor with a particular emphasis in HR Technology (HRTech) and the Human Capital Management sector globally; assignments range from working with leading SaaS businesses in HRTech as well as continuing to advise traditional recruitment and staffing firms.
In my career spanning more than 25 years, I have advised on Workforce Solutions sector M&A transactions in over 30 countries throughout the world. I work with both buyers and sellers of businesses within these fields.
Additionally, I have a strong personal interest in the related fields of data science, machine-learning and Artificial Intelligence. I also work closely alongside the ESG M&A team and assist the team with M&A deals within the ESG sector.
If you are an owner or senior executive of a HR-or ESG-related business interested to discuss how M&A could help you accomplish your objectives – please get in touch.