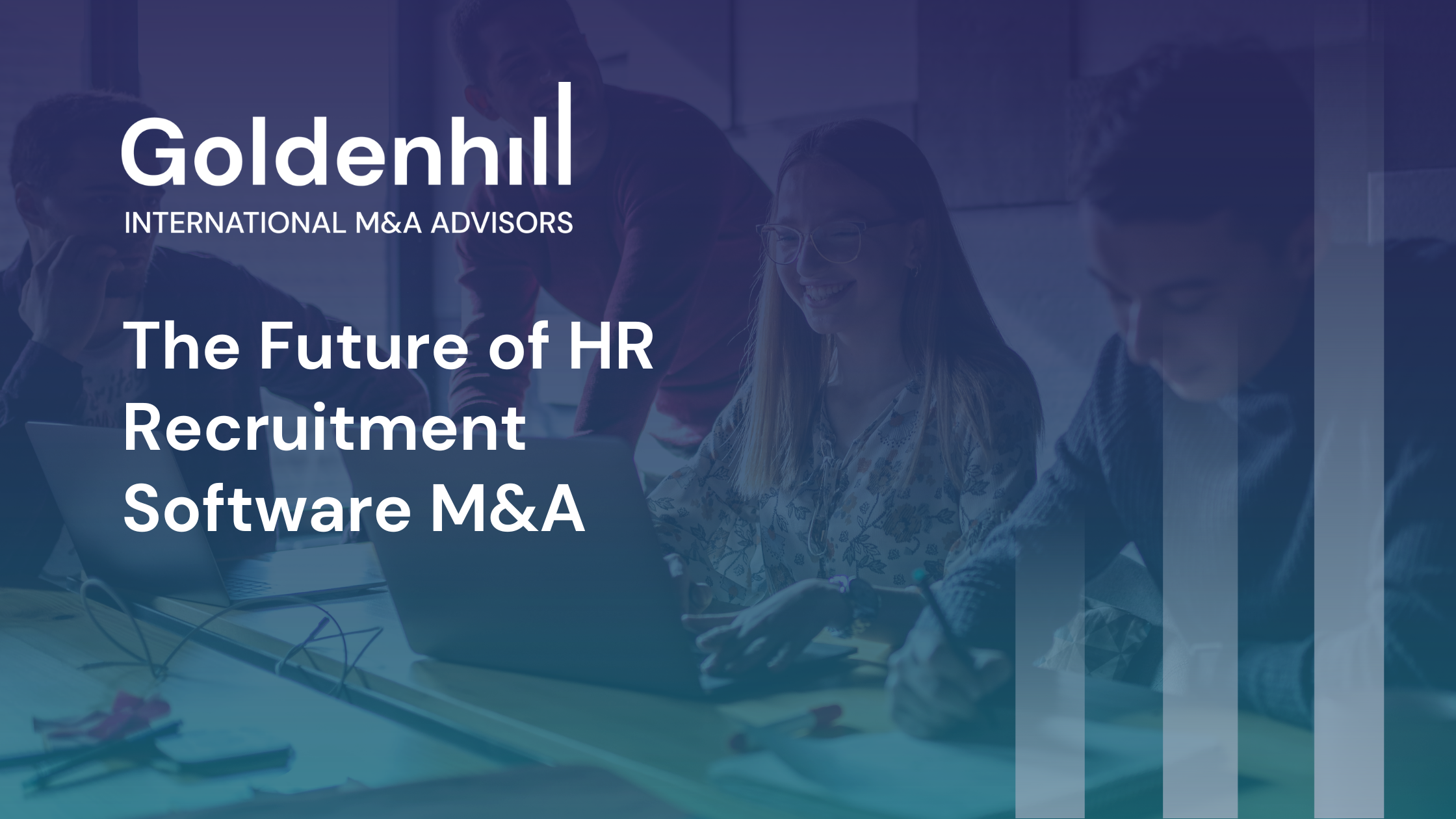 The Future of Recruitment Software M&A
The Future of Recruitment Software M&A
In recent years, the human resources (HR) recruitment software industry has experienced significant growth, driven by the increasing need for companies to streamline their hiring processes and find the best talent quickly.
This growth has also resulted in a surge of mergers and acquisitions (M&A) activity, as companies seek to expand their capabilities and stay ahead of the competition. In this article we look at several factors leading to the surge in HR Recruitment Software M&A.
GPT functionality to assist employers and candidates
AI platform ChatGPT offers significant potential for streamlining and enhancing the hiring process for HR professionals. One of its primary advantages is writing appealing candidate outreach emails that are more likely to receive a response from passive job seekers. Asking GPT to create a compelling email will result in a well-written message that may be utilised as is or customised to the recruiter's needs. Beamery, a talent lifecycle management solutions provider, has announced that it has launched TalentGPT, the first generative AI for HR technology.
With TalentGPT, Beamery aims to transform talent acquisition as well as talent management experience Equally, the generative AI technology is being used to create resumes and cover letters, according to a survey by ResumeBuilder.
The survey conducted by the online job site in February 2023 found that nearly half of 2,153 job seekers surveyed used ChatGPT to help write their resumes, their cover letter, or both, and the majority said it helped them land the job they wanted. Acquisitions in this vertical include that of Savviest, a developer of an artificial intelligence platform intended to help users write cover letters and resumes by Pairin.
"A Gartner survey reported by Bloomberg revealed that 48% of HR leaders are in the process of finalising their guidance on ChatGPT."
Financial wellness in a time of economic turmoil
According to PwC's Employee Financial Wellness Survey, more than three quarters (76%) of stressed employees said financial worries have had a negative impact on their productivity. Typically, employees facing an unexpected cost partway through the month, would have to reach for high-cost credit which may have a long-term impact on their finances.
However, technology such as on-demand pay apps can provide employees instant access to pay they've already earned, giving them more flexibility to deal with unexpected expenses. Providing this kind of safety net removes some of the stress which contributes to poor financial wellbeing, at no cost to the employer. HR is also best situated to connect employees to financial education either through in-house or online events like seminars or instructional videos, as well as through regular communications.
Experts say these programs work best in tandem with a workplace climate in which workers feel comfortable discussing personal financial matters—with each other on in-house chat boards or even with their supervisors during a time of crisis. Acquisitions in this vertical include that of Wagestream, a developer of financial wellness software intended to democratise access to finance by Humanforce.
People analytics facilitates the employee experience
HR leaders want to create a company culture that focuses on the importance of employee experience. People analytics can first assist with improving experience by supporting the human resources function to become a more data-driven function. Next, people analytics needs to stay in the driver's seat and talk to business leaders to discover the top business priorities and connect their strategies with those of the business.
This is crucial to driving real impact from experience. They can connect with leaders and assist with creating valued methods instead of just producing data. When HR departments become business-focused, data-driven, and experience-led, they bring people analytics and employee experience together.
Collecting, analysing, and acting appropriately from data to create a positive employee experience and business can benefit everyone and deliver tangible business value. Acquisitions in this vertical include that of Pulses, a SaaS platform for HR professionals and leaders to deal with engagement, performance, culture, and employee experience by Gupy.
Streamlining the onboarding and offboarding process
Onboarding trends are evolving rapidly, reflecting the changing landscape of the modern workplace. Whether employees are office-based or fully remote, they should have a consistent onboarding experience when joining a company. Given the present talent shortage, businesses must make a good first impression during an employee's first few days and weeks.
As such, the uptake of digital onboarding solutions is one HR tech trend that shows no sign of slowing. By automating critical but repetitive tasks, onboarding technology delivers a seamless new employee experience while alleviating the workload for HR.
Likewise, when an employee leaves the company, this technology can ensure the necessary steps are completed before their last day. A recent transaction in this space is the acquisition of Sweden-based Whippy, a developer of onboarding and offboarding solutions by Pion Group.
"According to research by Electric, 52% of HR professionals still find onboarding to be a challenging or frustrating aspect of their role."
HR Recruitment Software M&A
In the first quarter of 2023, deal volumes increased marginally by 3% compared to Q4 2022. The continued caution in M&A activity in the last quarter can be attributed to uncertain economic factors, shifting focus on sustaining operations and cautious spending.
Talent Attraction was the most active sub-sector, recording 35% of identified deals, followed by Workforce Management and Talent Development, each representing 29% and 22% of the total deal volume, respectively.
Cross-border transactions accounted for 38% of the total, a notable increase from Q4 2022 where they accounted for only 28% of all transactions. The most active geographic market for transactions continues to be North America, closely followed by Europe.
You can find out more about recent M&A activity in the HR Recruitment Software space by viewing our latest HRTech M&A report.
Book a Specialist M&A Consultation
the recent surge of M&A activity in the HR recruitment software industry has been driven by the need for companies to stay competitive and meet the evolving demands of the market. As we have seen, these deals can be complex and require careful consideration of various factors, such as technology compatibility and cultural fit.
If you are considering an M&A transaction in this space, it is crucial to seek the guidance of a specialist M&A advisor with a deep understanding of the industry and the nuances of these types of deals. With their expertise and support, you can navigate the process with confidence and make informed decisions that will help you achieve your strategic objectives.
Contacting a specialist M&A advisor today could be the first step in taking your HR recruitment software business to the next level. Book a consultation with us here.
Author: Philip Albright
Partner
Highly-experienced M&A advisor with a particular emphasis in HR Technology (HRTech) and the Human Capital Management sector globally; assignments range from working with leading SaaS businesses in HRTech as well as continuing to advise traditional recruitment and staffing firms.
In my career spanning more than 25 years, I have advised on Workforce Solutions sector M&A transactions in over 30 countries throughout the world. I work with both buyers and sellers of businesses within these fields.
Additionally, I have a strong personal interest in the related fields of data science, machine-learning and Artificial Intelligence. I also work closely alongside the ESG M&A team and assist the team with M&A deals within the ESG sector.
If you are an owner or senior executive of a HR-or ESG-related business interested to discuss how M&A could help you accomplish your objectives – please get in touch.