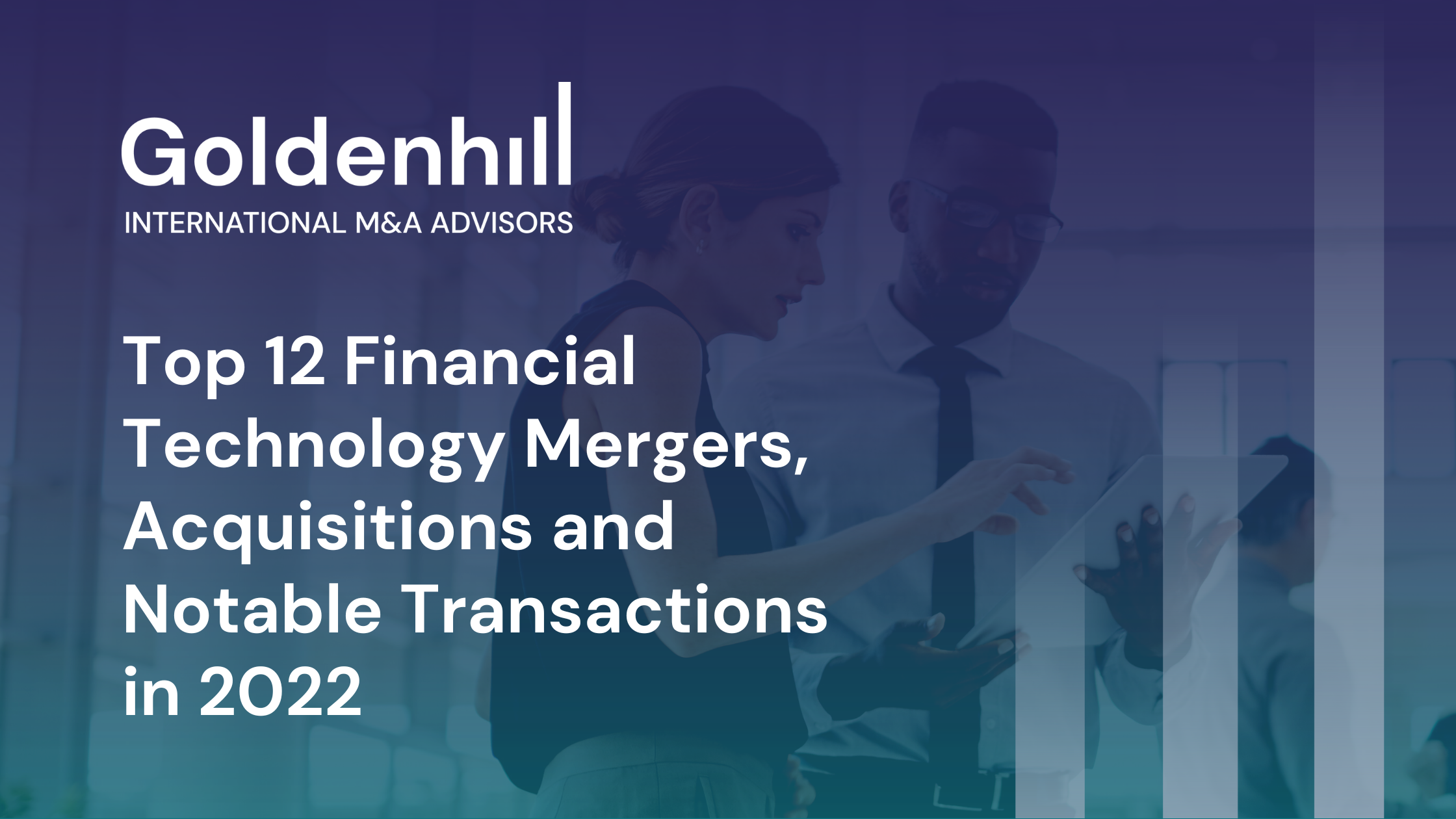 Top 12 Financial Technology Mergers, Acquisitions and Notable Transactions in 2022
Despite 2022 being a difficult year for us all, with the rising cost of living and interest rate hikes, there was a significant increase in M&A activity levels in the Financial Technology sector.
In total, 25 acquirers completed multiple transactions in the period with over 450 diverse buyers each completing a single transaction. While the most active sub-sectors were the Payments sector, accounting for 18% of deals and the Banking Software sector accounting for 16%.
In general, driving last year's increase in Financial Technology M&A were deals in the Payments, Crypto & Blockchain and Banking Segments. In this article we review the top 12 notable transactions in the financial technology sector in 2022.
Goldenhill Financial Technology M&A Deals in 2022
ICE acquired Urgentem
This acquisition, led by the Goldenhill M&A Advisory team, will enable ICE to quickly expand its climate risk offering to include extended coverage of global public and private companies across new geographies, scenario risk analysis and stress testing for fund managers and banks. Urgentem's broad database and sophisticated modelling analytics will quickly expand ICE's offering, and together with ICE's physical climate risk solutions, will provide a full suite of sustainable finance services.
Bowmark Capital acquired wsd
WSD has achieved revenue growth of over 15% per annum since 2019. Bowmark's investment, which was led by the Goldenhill M&A advisory team, will help accelerate delivery of the company's product development roadmap and extend WSD's infrastructure across North America, Europe and Asia.  Bowmark's investment in WSD will further WSD's vision of offering banks a straight-through automation solution for structured products and OTC derivatives.
Some of the Notable Transactions of 2022
S&P Global acquired The Climate Service
Founded in 2017 and headquartered in North Carolina, The Climate Service (TCS) is a provider of climate risk modelling and analytics to governments, investors, and businesses.
This transaction builds on what was a milestone year for S&P Global and ESG, including the launch in April 2021 of S&P Global Sustainable1. S&P Global Sustainable1 is the central source for sustainability intelligence from S&P Global. Sustainable1 matches customers with the ESG products, insights, and solutions from across S&P Global's divisions to help meet their unique needs.
SoFi acquired technisys
SoFi will use Technisys's platform to roll out personalised financial services to its own banking customers. It will also allow other banks and financial-technology companies to use the platform, which today is mostly used by banks in Latin America.
SoFi estimates that the Technisys acquisition will generate up to $800 million in additional revenue through to 2025. It will also create up to $85 million in cost savings over the span. SoFi currently relies on one legacy software vendor to power its banking and savings accounts and a separate one to power its credit card. Technisys will allow it to bring those capabilities in-house.
Deutsche Börse Group acquired Kneip
This partnership forms the basis for creating a leading fund data hub based in Luxembourg. Kneip will seek to further scale the business and expand its range of services inside Deutsche Börse Group, including data and post-trade services provided by Clearstream.
Through Kneip's global reach and broad range of services, Deutsche Borse will be able to further develop the product and service offerings and add value for funds clients at every stage of their business.
Allfunds acquired WebFG (Web Financial Group)
Headquartered in Madrid, WebFG provides bespoke digital solutions for the wealth management industry by harnessing sophisticated data management, cutting-edge technology, and industry leading expertise refined over 20 years. This acquisition will help Allfunds bolster its solutions offering for the wealth management industry.
ICE acquired Black Knight
Black Knight, Inc. provides integrated software, data, and analytics solutions in North America and Internationally. The Software Solutions segment offers software and hosting solutions comprising MSP, a SaaS application platform for mortgage, home equity loans, and lines of credit. The addition of Black Knight's technology solutions, real estate and mortgage-related data assets, leading analytics, and its team of mortgage and technology professionals complements and strengthens ICE's rapidly growing mortgage technology business.
Clearwater Analytics acquired Jump Technology
In the third quarter of 2022, it was announced that SaaS solution provider for automated investment data aggregation, acquired investment management software company, Jump Technology in a deal worth $75 million. The acquisition will allow Clearwater to offer an innovative, end-to-end platform for the hedge fund and investment management industry. Combined with Clearwater Prism, it will provide an enterpriseclass solution for investment managers of all sizes.
Infront acquired Assetmax 
Assetmax, which is a leading software provider for independent asset managers, was acquired by market data provider, Infront, who specialist in providing finance professionals with advisory analytics, portfolio management and other solutions to improve the decision-making process. The latest announcement from Infront came approximately one month after FNZ, one of the biggest names in the global wealth management industry, acquired New Access.
Hg acquired TrustQuay
TrustQuay provides entity management, client accounting, practice management, compliance and workflow software for trust, fund and corporate service providers around the world. Over the next phase of growth, TrustQuay aims to scale further as a global leader by accelerating the digitalisation of this segment, including with the roll-out of TrustQuay Online, a brand new, sectorleading and feature-rich SaaS offering that will revolutionise how customers operate in this industry.
EuraZeo acquired NeoXam
NeoXam was created in 2014 following a carve-out from SunGard (FIS Global) and a series of acquisitions adding complementary solutions. Through its investment plan, Eurazeo is willing to support NeoXam in continuing ramping up growth, particularly in the Data Management and Reporting segments, and expanding internationally (particularly in Asia, the UK and US).
United FinTech acquired Cobalt
This was United Fintech's fifth acquisition since launching in 2020 and has rapidly scaled its team to 150 across New York, London, and Singapore. The acquisition elevates United FinTech's position as the leading end-to-end solution connecting financial institutions with innovative FinTech companies to accelerate digital transformation.
Financial Technology M&A in 2023
In 2023, we expect to see a likely rise in the number of Banking-as-a-Service (BaaS), Blockchain and Cryptocurrency M&A deals, as companies look to extend their product offerings. We also expect that private equity firms will make a return and re-establish their presence in M&A transactions.
In general, there will be an increased focus on digitalisation and cost optimisation this year. Embedded financial services will lead to more and more financial technology solutions for small and medium companies and emerging technologies such as the Internet of Things (IoT), Artificial Intelligence (AI) and Big Data will bring about change and new investment opportunities.  The growing need for blockchain technology to power Web3 for example, will bolster a new era of decentralised finance.
Download Our Financial Technology Report
Our latest financial technology report which tracked the fundraising and M&A transactions in the financial technology market in Q4 2022, is now available to view. Download a free copy of the report here.
Want to discuss your financial technology M&A requirements? Contact one of our specialist M&A Advisors for a free consultation of your business.
Author: Chris Brooke
Partner
Highly-experienced M&A advisor with a particular emphasis in the Fintech sector, market data and analytics including ESG (Environmental, Social and Governance) software and data globally; assignments include working with leading privately held and listed businesses covering the Fintech, market data and ESG spectrum. In my career spanning more than 25 years, I have advised on Fintech M&A transactions in over 17 countries throughout the world. I work with both buyers and sellers of businesses in Fintech.
I held senior positions in business and corporate development, marketing, and product management in several Fintech companies prior to Goldenhill.
If you are an owner or senior executive of a Fintech business interested to discuss how M&A could help you accomplish your objectives – please get in touch.