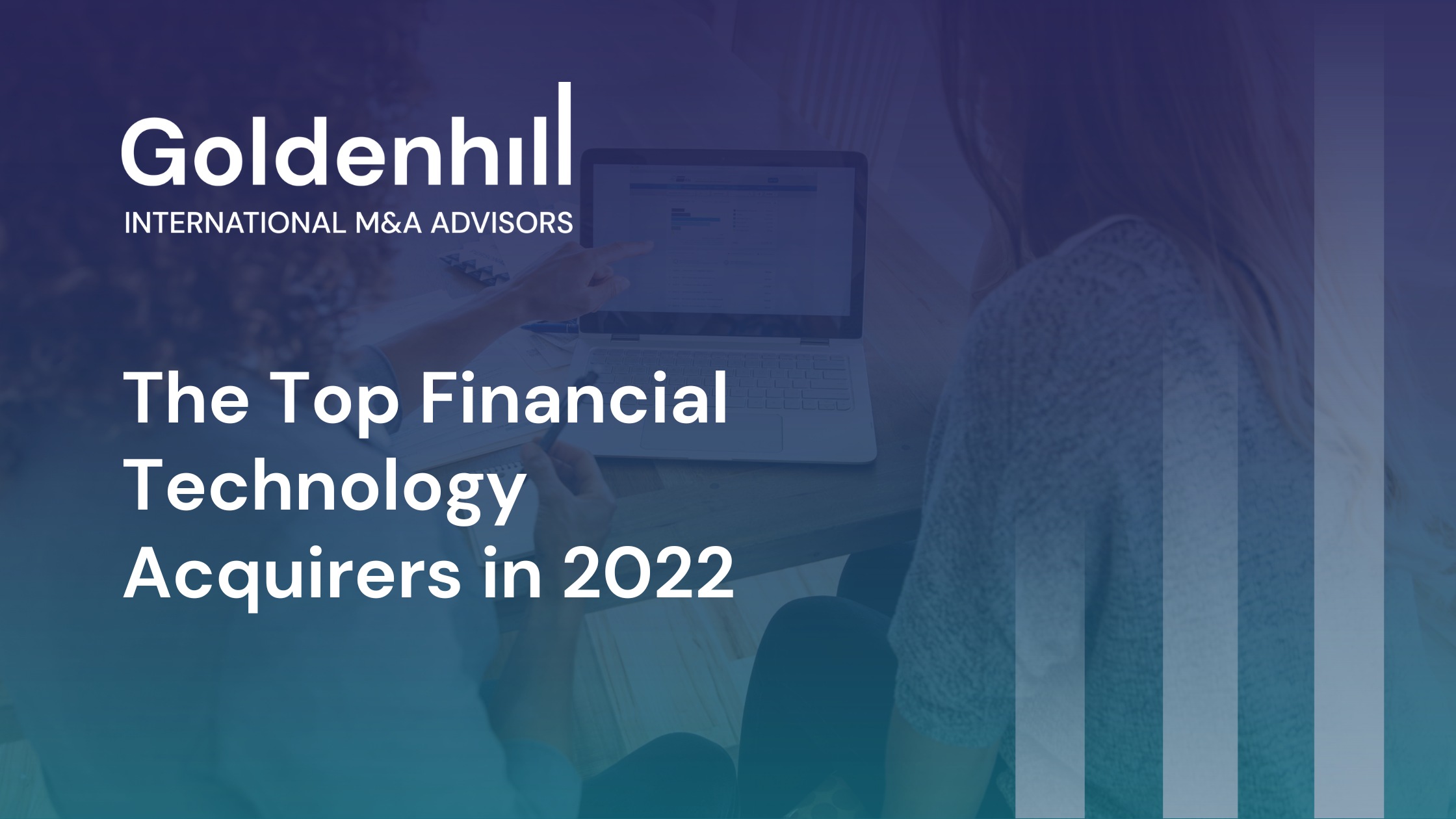 The Top Financial Technology Acquirers in 2022
Despite 2022 being a difficult year for us all, with the rising cost of living and interest rate hikes, there was a significant increase in M&A activity levels in the Financial Technology sector.
In this article, we review the top strategic and financial acquirers for the financial technology sector, who made numerous acquisitions to expand their businesses and gain a competitive edge in the market, the types of transactions that took place and overall transaction volumes.
Top Financial Buyers by Number of Deals
The table lists the most active financial buyers in 2022 in terms of the number of deals completed, along with their target countries. The data highlights the importance of cross-border M&A activity in the financial technology market, with several buyers making acquisitions in multiple countries.
Thomas Bravo is the most active buyer on the list, with a focus on Canada and the United States. The firm has completed seven deals in these countries, indicating a strong interest in the North American financial technology market. LEA Partners, a growth equity firm that invests in companies with technology-driven solutions, completed the second highest number of deals (3). Its activity in the financial technology market reflects a broader trend of private equity firms investing in high-growth companies with innovative technology.
All the financial buyers in the table have made acquisitions in more than one country, indicating a global interest in the financial technology industry. This is consistent with broader trends in the financial technology market, as technology has made it easier for companies to operate across borders, leading to increased competition and opportunities for growth through acquisition.
In summary, the data in the table highlights the importance of cross-border M&A activity in the financial technology market, as well as the interest of financial buyers in investing in technology-driven companies. The activity of these financial buyers reflects a broader trend of private equity firms, venture capital firms, and traditional financial institutions seeking to invest in the sector, and the specific acquisition strategies of these firms may be driven by factors such as market consolidation, regulatory environment, innovation, and complementary business lines.
Top Strategic Acquirers by Number of Deals
Despite the growing concerns with the macroenvironment and the suppressed public valuations in FinTech, M&A activity marginally increased in 2022, as both Strategic acquirers and PE firms looked for deals.
The most active strategic buyers in 2022 in the financial technology sector, were omnichannel payment company DNA Payments with 3 acquisitions, wealth management technology provider Envestnet with 3 acquisitions and Allianz X with 2 acquisitions.
In total, 25 acquirers completed multiple transactions in the period with over 450 diverse buyers each completing a single transaction. Strategic buyers remained the remained the largest category of acquiror representing 87%, in comparison to 2021, where they represented 89% of transactions, in the financial technology sector.
DNA Payments
Following its £100 million fundraise from Alchemy Partners in 2021, DNA Payments marked its seventh acquisition in 2022 with the strategic purchase of payment solutions provider, First Payment Merchant Services (FPMS), enabling them to expand their omnichannel platform to FPMS customers. Their eighth acquisition was card acceptance and payment solutions specialist, Card Cutters, as part of their growth ambitions to provide unique opportunities to new, core markets and deliver cutting-edge payment solutions at competitive rates. While their ninth and final acquisition of the year was the purchase of payment solutions provider, Kwalitas, to continue to reach core markets and deliver cutting-edge payments solutions.
Envestnet
Wealth management technology provider Envestnet also made several acquisitions throughout the year. In May, Envestnet announced they had acquired Truelytics Inc a leading business intelligence platform in the wealth management industry, followed by the acquisition of investment and practice management solutions provider, 401kplans in June, and revenue and billing management platform, Redi2 Technologies, in July. All three acquisitions are set to help Envestnet create more connections across the Envestnet financial wellness ecosystem for asset managers, wealth managers and investment advisors.
Allianz X
Insurance and asset management company, Allianz X had a busy year too, with the acquisition of Innovation Group, a leading global provider of claims and technology solutions to the insurance and automotive industries, and embedded insurance pioneer, Simplesurance. Both acquisitions will see Allianz X leverage Innovation Groups digital claims management platform, Gateway and Simplesurance's digital capabilities to achieve a competitive speed to market.
Top 10 Financial Technology Deals in 2022
(Ranked by Target Country Location)
The given data represents the number of financial technology M&A targets by country, indicating the level of M&A activity in the sector. The United States has the highest number of M&A targets with 207, followed by the United Kingdom and Canada with 64 and 28 targets, respectively. This is due to both the US and the UK having mature financial services industries, which has created a fertile environment for the growth and development of financial technology firms.
The data also shows that several European countries, such as France (21), Germany (19), The Netherlands (13) and Switzerland (11) all had a significant number of financial technology M&A targets. This suggests that financial technology M&A is a growing trend in Europe, indicating a shift towards digital financial services and fintech innovation in the region.
Furthermore, Singapore, India and Brazil had 17, 17 and 16 financial technology M&A targets, respectively, indicating a growing interest in fintech in the Asia-Pacific region. Overall, this data highlights the growing trend of cross-border M&A, with companies seeking to expand their reach and access new markets.
The combination of a rapidly growing fintech market, increasing investment capital, a trend towards cross-border M&A, and supportive regulatory environments has made the US, UK and Europe a hotbed for financial technology M&A.
Top 10 Financial Technology Deals in 2022
(Ranked by Buyer Country Location)
The table provides a count of buyer countries for mergers and acquisitions in the financial technology market. The United States has the highest count with 246, followed by the United Kingdom with 76, Canada with 27, India with 18, France with 17, Singapore with 15, Germany with 13, Brazil with 12, Switzerland with 11, and Netherlands with 8.
The high count of the United States and the United Kingdom in the table is not surprising, as both countries are global financial centres with highly developed financial technology markets. The United States is home to many of the world's largest and most established financial technology companies, and has a highly developed venture capital ecosystem, which can help to fuel growth and innovation in the sector. The United Kingdom is another important financial technology market, with a highly supportive regulatory environment and a strong focus on innovation and entrepreneurship.
The data also indicates that there is significant M&A activity in the financial technology market in other countries, such as Canada, India, and Singapore. These countries have emerging financial technology markets, and are home to a growing number of start-ups and early-stage companies that are attracting interest from investors and acquirers.
Overall, the high count of the United States and the United Kingdom indicates that these countries are the most active acquirers in the sector, but there is also significant activity in other countries, which suggests that the financial technology market is becoming increasingly global.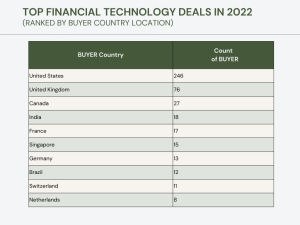 The Most Active Subsectors
The Financial Technology sector saw a flurry of activity in 2022, with 'Payments' emerging as the most active sub-sector, accounting for 18% of total deals, following closely by 'Banking Software' accounting for 16% of deals and the 'Blockchain' sector, accounting for 12% of the total deal volume.
This is likely to have been the outcome of the increasing demand for advanced software and financial data analytics solutions for fund managers, banks, and investors, who are looking to expand their processes, technology, and data capabilities to achieve their strategic objectives.
The third quarter of 2022 was the busiest for the Financial Technology sector, as seen in our latest report, with over 146 deals completed, in comparison to Q1 and Q2 with 142 deals and Q4 with 116 deals.
Chris Brooke, Financial Technology M&A Advisor says:

"The financial technology sector saw a surge in M&A activity in 2022, driven by the digital disruption that is reshaping the industry. As technology continues to transform the financial landscape, companies are seeking out strategic acquisitions to stay ahead of the curve and capture new opportunities."
Contact Our Specialist M&A Advisors
Are you considering a merger or acquisition for your business in 2023? Our team of M&A specialists can help you navigate the complex process and find the right opportunities for your company.
We offer a complimentary discussion to assess your business needs and help you understand the potential benefits and challenges of M&A. Contact us today to schedule your complementary discussion with one of our M&A specialists.
Author: Chris Brooke
Partner
Highly-experienced M&A advisor with a particular emphasis in the Fintech sector, market data and analytics including ESG (Environmental, Social and Governance) software and data globally; assignments include working with leading privately held and listed businesses covering the Fintech, market data and ESG spectrum. In my career spanning more than 25 years, I have advised on Fintech M&A transactions in over 17 countries throughout the world. I work with both buyers and sellers of businesses in Fintech.
I held senior positions in business and corporate development, marketing, and product management in several Fintech companies prior to Goldenhill.
If you are an owner or senior executive of a Fintech business interested to discuss how M&A could help you accomplish your objectives – please get in touch.