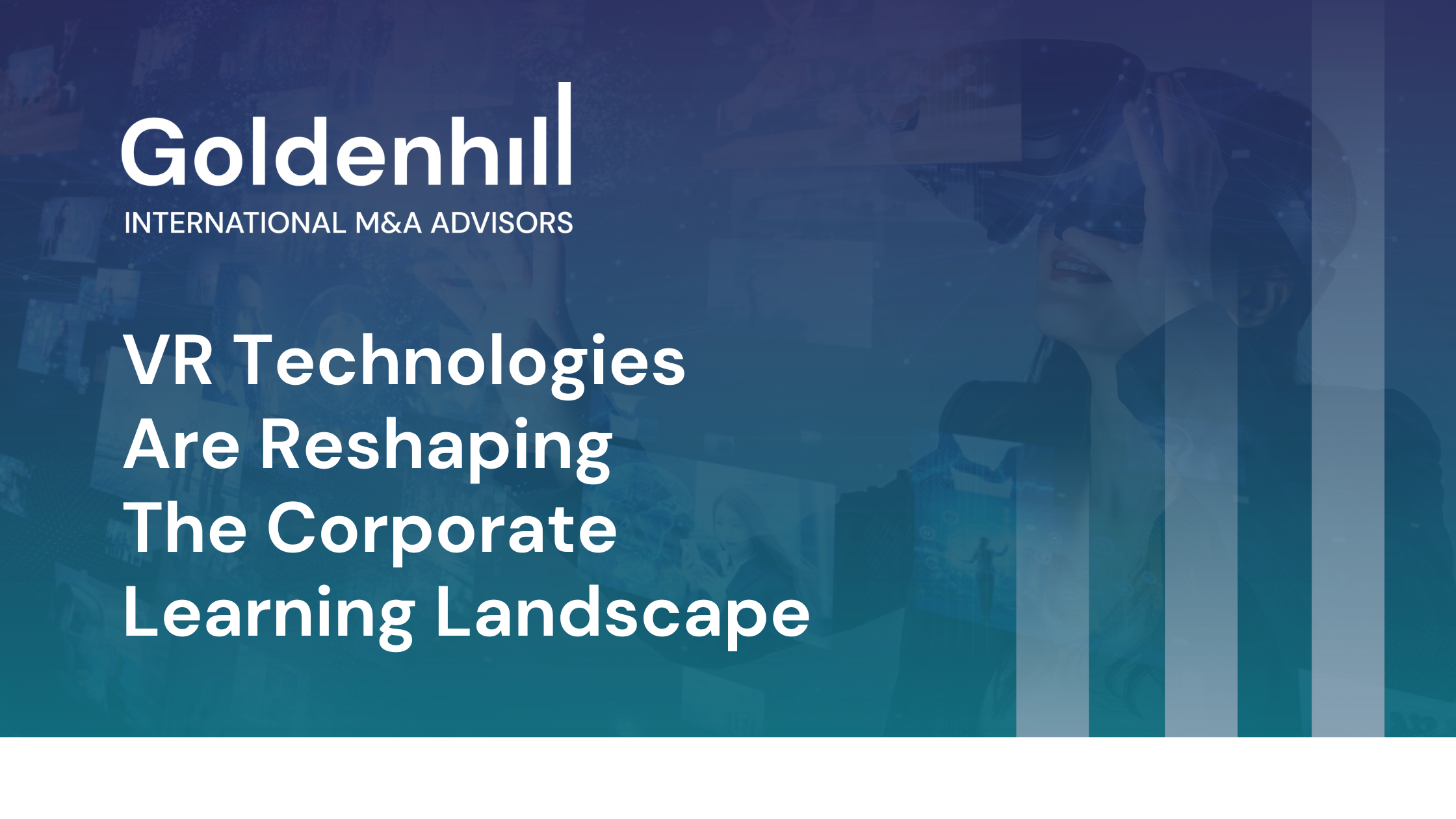 VR Technologies Are Reshaping The Corporate Learning Landscape: Here's Why
The way we work is changing, and soft skills like communication, leadership and teamwork have become more vital as hybrid working becomes the norm.
Virtual Reality Technologies (VR) are reshaping the corporate learning landscape by providing a virtual learning environment for employees to level up their skills, helping close the soft skills gap.
In this article, we review the reasons why companies are using VR, examples of major players in the VR HRTech space leading the way with innovative VR platforms and solutions for employers and recent VR-related M&A transactions.
Why Companies Are Using VR To Level Up
Employees can get more value from this type of immersive training by learning through an interactive experience rather than passively retaining information relayed to them.
For example, some employers are using VR to conduct role-playing exercises on a large scale, while others are using VR to take their employees through a range of workplace-related scenarios, to build empathy, learn how to communicate and develop new leadership abilities.
Utilising VR for training will allow HR departments to access a unique window into how employees learn by capturing key data such as attention and engagement. How a learner performs during training closely indicates how that person will perform in real life. This data is used to optimise learning and performance.
Furthermore, VR can be used in the digital employee onboarding process. Gamification can be utilised in this process as fun games and interactive tasks in the virtual world can test new hires for stress tolerance as well as check their reactions, decision-making and professional skills.
Examples of VR Tech Providers Creating Immersive Experiences for Corporates
Many large corporations are now recognising how VR can help improve their in-house learning and development initiatives and are partnering up with major players in the VR software solutions space. Walmart, for example, recently worked with Strivr, a VR training platform which helps to reduce the time needed to teach new hires goods-pickup skills, from eight hours down to 15 minutes.
One of the leading providers of VR Tech is MetaSim, who create immersive and authentic virtual reality experiences that help leaders across the globe to practice core leadership skills in a highly realistic and engaging environment, free of fear and judgment.
Another major player in the VR HRTech space is Attensi – the global leader in 3D gamified simulation training for large corporations. Their solutions combine advanced 3D modelling with deep insight into human behaviour and psychology, training employees in authentic situations that involve human interaction and the operation of business-critical software and systems.
It is clear that VR will continue to be utilised in the corporate world to help combat the soft skills gap and improve employee performance. From this, we expect to see more VR HRTech-related M&A transactions in the future as large corporates continue to take advantage of the technology.
M&A Activity in the VR HRTech Space
Strivr, one of the fastest emerging VR-based immersive learning providers, raised a $30m Series B round in April to expand the adoption of immersive learning to help companies elevate workforce engagement and performance.
While corporate innovation and venture development studio, Eleven, recently invested in MetaSim to help solve the inconsistency of people and performance management skills among managers and employees.
Get in Touch with Our M&A Advisors Today
We are specialist M&A Advisors who have significant experience of completing successful M&A transactions in the HRTech sector. We have advised high-growth clients with market-leading HRTech products on transactions with acquirers such as PageUp, Outmatch and Zalaris.
To find out more about emerging trends in the HRTech industry and recent M&A activity within the HRTech space, download our latest HRTech report here.
Author: Philip Albright
Partner
Highly-experienced M&A advisor with a particular emphasis in HR Technology (HRTech) and the Human Capital Management sector globally; assignments range from working with leading SaaS businesses in HRTech as well as continuing to advise traditional recruitment and staffing firms.
In my career spanning more than 25 years, I have advised on Workforce Solutions sector M&A transactions in over 30 countries throughout the world. I work with both buyers and sellers of businesses within these fields.
Additionally, I have a strong personal interest in the related fields of data science, machine-learning and Artificial Intelligence. I also work closely alongside the ESG M&A team and assist the team with M&A deals within the ESG sector.
If you are an owner or senior executive of a HR-or ESG-related business interested to discuss how M&A could help you accomplish your objectives – please get in touch.