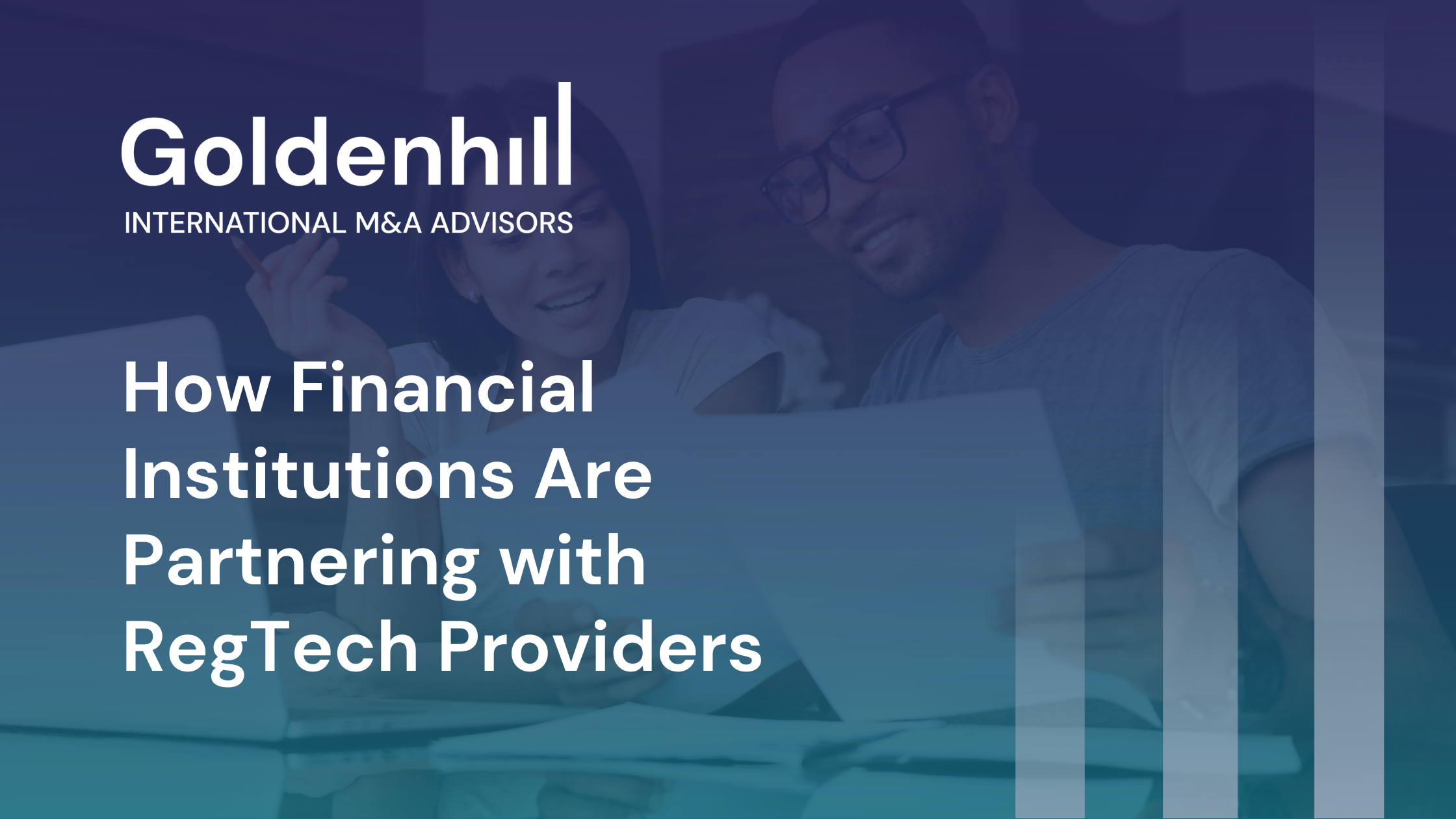 How Financial Institutions Are Partnering with RegTech Providers to Streamline Compliance and Risk Management
Financial institutions are increasingly partnering with RegTech providers to stay ahead of the curve when it comes to compliance and risk management.
RegTech solutions use cutting-edge technology to help financial institutions meet regulatory requirements more efficiently and effectively, reducing costs and enhancing customer trust
In this article, we explore why financial institutions are partnering with RegTech providers to meet their own strategic objectives and streamline their in-house compliance and risk management systems.
Meeting Strategic Objectives
RegTech is revolutionising the way businesses comply with rules and regulations in the financial industry. By leveraging advanced technologies like machine learning, biometrics, cloud computing, big data and blockchain, RegTech solutions are enabling businesses to streamline their compliance processes, reduce costs and manage risk more effectively.
In the latest series of funding rounds, we are seeing that financial institutions are keen to invest in RegTech providers as more than just vendors. During a time when financial institutions are under growing cost pressure, we are seeing increasing RegTech adoption across the financial industry. This is helping financial institutions address their financial and strategic objectives.
RegTech capabilities are aiding Asset Management and Asset Servicing companies in navigating new regulations while continuing to deliver value to their clients. Cloud and on-premises solutions help financial institutions collect data and automate generation of reports according to the format required by various regulatory bodies.While RegTech systems in risk management support risk data aggregation for capital planning and liquidity reporting, modelling, scenario analysis and forecasting with stress testing.
"The global RegTech market is expected to reach $22.3 billion by 2027 rising at a market growth of 19.8% CAGR during the forecast period."
Here are some of the ways RegTech solutions are aiding financial institutions:
Automating Compliance Processes
Regulatory compliance can be a time-consuming and resource-intensive task, especially for large financial institutions. RegTech solutions can help automate many of these processes, reducing the time and resources required for compliance. For example, RegTech solutions can help automate know-your-customer (KYC) and anti-money laundering (AML) checks, which can be a complex and time-consuming process.
By partnering with RegTech providers, financial institutions can leverage the latest advancements in data analytics, machine learning, and automation to streamline their compliance processes and stay on top of changing regulatory landscapes.
Providing real-time monitoring and reporting
RegTech solutions can provide real-time monitoring and reporting capabilities, allowing financial institutions to stay on top of their compliance requirements. For example, RegTech solutions can monitor transactions in real-time and alert financial institutions to any suspicious activity. This can help financial institutions to detect and prevent financial crime before it happens.
Enabling efficient risk management
RegTech solutions can help financial institutions manage risk more efficiently. For example, RegTech solutions can analyse large amounts of data to identify potential risks and provide insights into how to mitigate those risks. This can help financial institutions to make more informed decisions and reduce their exposure to risk.
Chris Brooke, FinTech M&A Advisor at Goldenhill International says:
RegTech is a rapidly growing area of interest for financial institutions, and we expect to see continued M&A activity in this space. The partnership between financial institutions and RegTech providers is a win-win for both parties. Financial institutions benefit from the expertise and technology provided by RegTech providers, while RegTech providers gain access to a large and growing market.
RegTech M&A
In 2022, the total value of venture capital (VC), private equity (PE), and mergers and acquisitions (M&A) investments in the RegTech (regulatory technology) sector worldwide was US 18.6 billion. This is a significant increase compared to the US 11.8 billion invested in 2021, indicating a notable growth in the RegTech industry.
The increase in investment from 2021 to 2022 suggests that the RegTech sector is experiencing strong demand from investors, indicating a positive outlook for the industry.
There has already been significant M&A activity in the RegTech space in the first quarter of 2023. In January of this year, Corlytics acquired regulatory lifecycle platform ING SparQ in a £5m deal and automated RegTech player CUBE acquired UK-based counterpart The Hub.
The M&A activity in the RegTech space in the first quarter of 2023 indicates that the trend of consolidation in the industry is continuing. The acquisition of ING SparQ by Corlytics and The Hub by CUBE demonstrate the importance of technology-driven solutions in addressing regulatory compliance challenges. The acquisition will enable Corlytics to expand its reach and enhance its capabilities in risk management, regulatory reporting, and compliance monitoring. The deal also underscores the importance of collaboration and consolidation in the RegTech space to achieve scale and better serve clients.
The acquisition of The Hub by CUBE is also significant, as it enhances CUBE's position as a leading provider of automated RegTech solutions. The Hub's expertise in data analytics and AI will strengthen CUBE's capabilities in areas such as risk management and fraud detection, while also enabling the company to expand its offerings to clients.
Overall, the M&A activity in the RegTech space in the first quarter of 2023 reflects the growing importance of technology-driven solutions in addressing regulatory compliance challenges. M&A activity in the industry is likely to continue as companies look to expand their capabilities, enhance their offerings, and achieve scale in an increasingly competitive market.
Book a Consultation with Us
If you're looking to acquire or merge with a RegTech provider, it's important to have a deep understanding of the market and the regulatory landscape.
An experienced M&A consultancy can help you navigate the process and identify the right RegTech provider for your needs. Book a consultation with one of our specialist Financial Technology M&A advisors here.
Author: Chris Brooke
Partner
Highly-experienced M&A advisor with a particular emphasis in the Fintech sector, market data and analytics including ESG (Environmental, Social and Governance) software and data globally; assignments include working with leading privately held and listed businesses covering the Fintech, market data and ESG spectrum. In my career spanning more than 25 years, I have advised on Fintech M&A transactions in over 17 countries throughout the world. I work with both buyers and sellers of businesses in Fintech.
I held senior positions in business and corporate development, marketing, and product management in several Fintech companies prior to Goldenhill.
If you are an owner or senior executive of a Fintech business interested to discuss how M&A could help you accomplish your objectives – please get in touch.