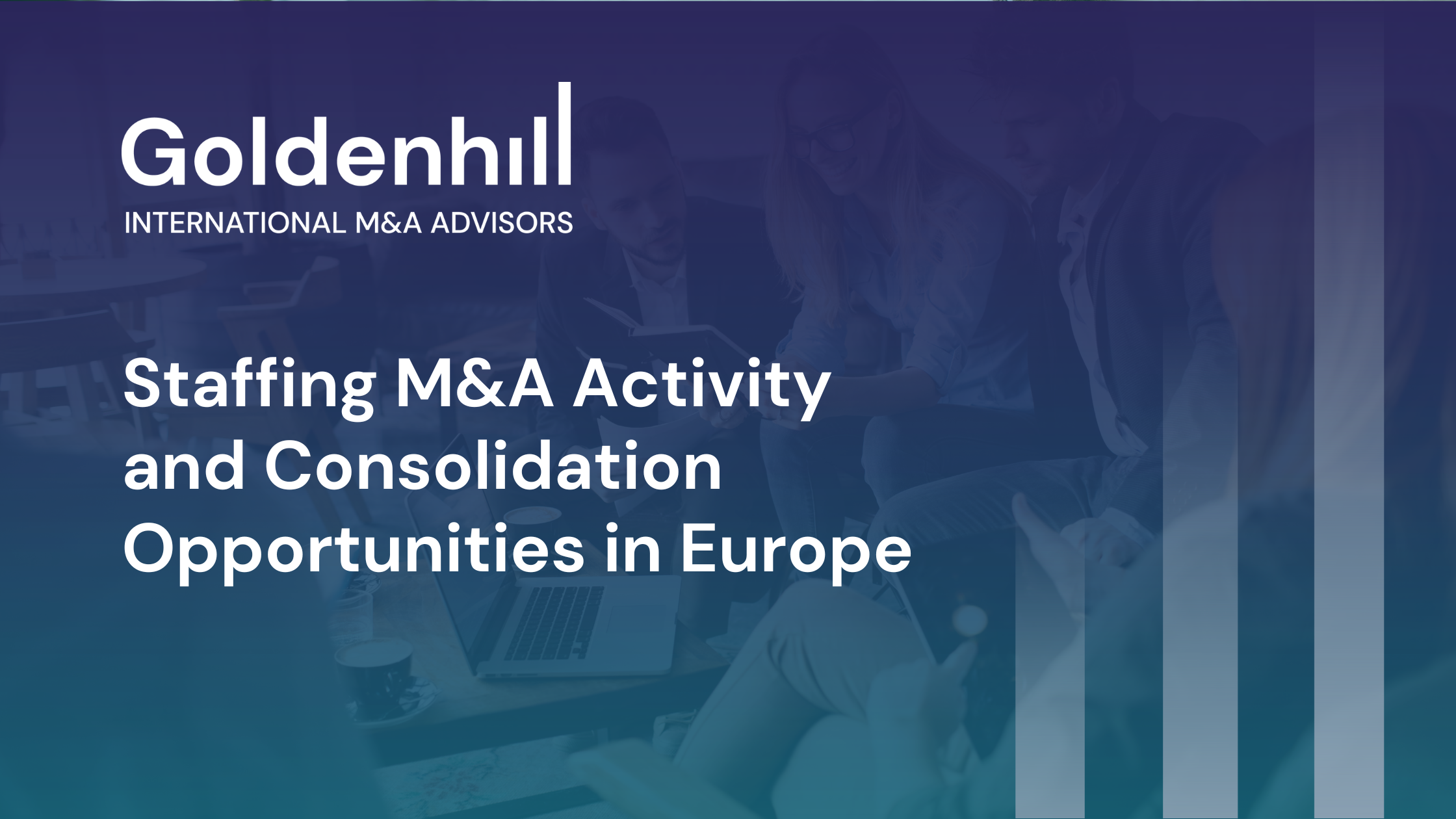 M&A Activity and Consolidation Opportunities in Europe: Reshaping the Staffing Industry
The European staffing industry is undergoing a transformative phase marked by mergers and acquisitions and consolidation activities. As the demand for flexible workforce solutions continues to rise, companies in the staffing sector are exploring strategic partnerships and acquisitions to enhance their market presence, expand service offerings, and capitalise on synergies.
According to the latest research, the Europe on-demand staffing platform market is expected to grow from US$ 43.14 million in 2022 to US$ 101.23 million by 2028. The current skills shortage is fuelling the demand for talent, with application numbers down by 9.2% and 7% respectively compared to the same three months in 2022. In Europe, more than three-quarters of companies are struggling to find workers with the right skills and the right pay rates.
This article reviews M&A activity and consolidation opportunities in Europe's staffing industry, highlighting the factors driving this trend and the potential benefits for industry players. It will also explore the reasons why buyers should consider acquiring staffing companies in Europe, highlighting the advantages and opportunities that this region offers.
Why Acquire in Europe?
Acquiring staffing companies in Europe presents a compelling proposition for buyers in the industry. The region's diverse and skilled workforce, lucrative markets, cross-border potential, strong legal frameworks, technological innovation, and consolidation opportunities make it an attractive destination for expansion.
The market, which can be classified by end-user industry (Healthcare, BFSI, Manufacturing, Telecom, Retail) and by country (UK, Germany, France, Spain, Italy), is being driven by the emergence of technologies such as AI, IoT and dominated by several key players, including Aquent, Randstad N.V, Vero HR, Haselhoff Groep and VHR Consulting, to name a few.
By strategically entering the European market through acquisition, buyers can position themselves for sustainable growth, increased competitiveness, and a broader global footprint in the dynamic and evolving staffing industry.
Access to a Diverse and Skilled Workforce
Europe is known for its highly skilled and diverse workforce. By acquiring a staffing company in Europe, buyers gain access to a talent pool with a wide range of expertise, languages, and cultural backgrounds. This diversity can provide a competitive edge in serving global clients and catering to specialised industries that require specific skill sets.
The growth of the gig economy is testament to this, as more and more workers are opting for freelance and contract work, not to mention the trend of an expanding contingent workforce, where large IT companies in Europe are prioritising outsourcing specific business functions for their organisations scalability. The latest proposal from the European Commission, which aims to preserve the opportunities and benefits brought by the platform economy, will shine a light on digital platform workers, will have a significant impact on Europe's IT staffing industry. The new proposal will help foster a innovation-driven environment in the EU and improve the working conditions of people working through digital labour platforms.
Technological Innovation and Digitalisation
Europe has been at the forefront of technological innovation and digitalisation, making it an ideal environment for buyers seeking to leverage cutting-edge solutions in the staffing industry. The unveiling of Europe's first ChatGPT integrated staffing platform by staffing AI company Globus,ai, which has been backed by large Venture Capitalists from Europe and the US, is testament to its commitment to the Staffing Platforms as a Service landscape. Acquiring a European staffing company can provide access to advanced recruitment technologies, applicant tracking systems, AI-powered analytics, and other digital tools that streamline operations, improve efficiency, and enhance the overall client and candidate experience.
Philip Albright, HRTech and Workforce Solutions M&A Advisor at Goldenhill International M&A Advisors says:
"The consolidation trend in Europe's staffing sector is not only reshaping the business landscape but is also fuelling innovation, enabling organisations to deliver cutting-edge solutions and solidify their position as industry leaders. Acquiring a staffing company in Europe allows buyers to expand their operations into these lucrative markets, tapping into new revenue streams and diversifying their client base. These strategic transactions offer a unique opportunity for companies to achieve growth, optimise operations, and expand their market presence."
M&A Activity and Consolidation Opportunities in Europe
The staffing industry in Europe has witnessed significant merger and acquisition activity, leading to consolidation and the emergence of larger, more competitive players. Buyers looking to strengthen their market position and achieve economies of scale can capitalise on these consolidation opportunities by acquiring established staffing companies in Europe. This strategic move allows buyers to gain market share, access new client relationships, and optimise operational synergies.
Recent deals within this space include that of US-based leading employee experience platform LumApps, and their acquisition of German-based digital assistant technology provider, Vizir in Q4 2022, to improve employee access to knowledge, resources and third-party applications at lower costs. Another notable transaction is the acquisition of Switzerland-based company People-Analytix, an AI-based employee skills management platform, by Marlin Equity Partners, who are based in the USA. The acquisition is said to provide a fundamental component as part of Marlin Equity Partners' wider mission to support talent development.
The acquisition of IT staffing and recruitment group, R2 Group who are based in the Netherlands, by UK-based international recruitment firm Gravitas Group, is another recent transaction, which showcases the growing relationship between UK and US-based buyers and their European targets.
Book an M&A Consultation Today
M&A activity and consolidation opportunities are reshaping the staffing industry in Europe. Through strategic partnerships, acquisitions, and market expansion, companies can achieve economies of scale, optimise operations, and diversify their service offerings.
As the demand for flexible workforce solutions continues to grow, M&A activity in Europe's staffing industry is expected to remain robust, reshaping the landscape and providing new opportunities for both organisations and job seekers.
Are you looking to merge or acquire with a HRTech or Workforce Solutions technology provider? Book a complimentary consultation with one of our specialist M&A Advisors here.
Author: Philip Albright
Partner
Highly-experienced M&A advisor with a particular emphasis in HR Technology (HRTech) and the Human Capital Management sector globally; assignments range from working with leading SaaS businesses in HRTech as well as continuing to advise traditional recruitment and staffing firms.
In my career spanning more than 25 years, I have advised on Workforce Solutions sector M&A transactions in over 30 countries throughout the world. I work with both buyers and sellers of businesses within these fields.
Additionally, I have a strong personal interest in the related fields of data science, machine-learning and Artificial Intelligence. I also work closely alongside the ESG M&A team and assist the team with M&A deals within the ESG sector.
If you are an owner or senior executive of a HR-or ESG-related business interested to discuss how M&A could help you accomplish your objectives – please get in touch.