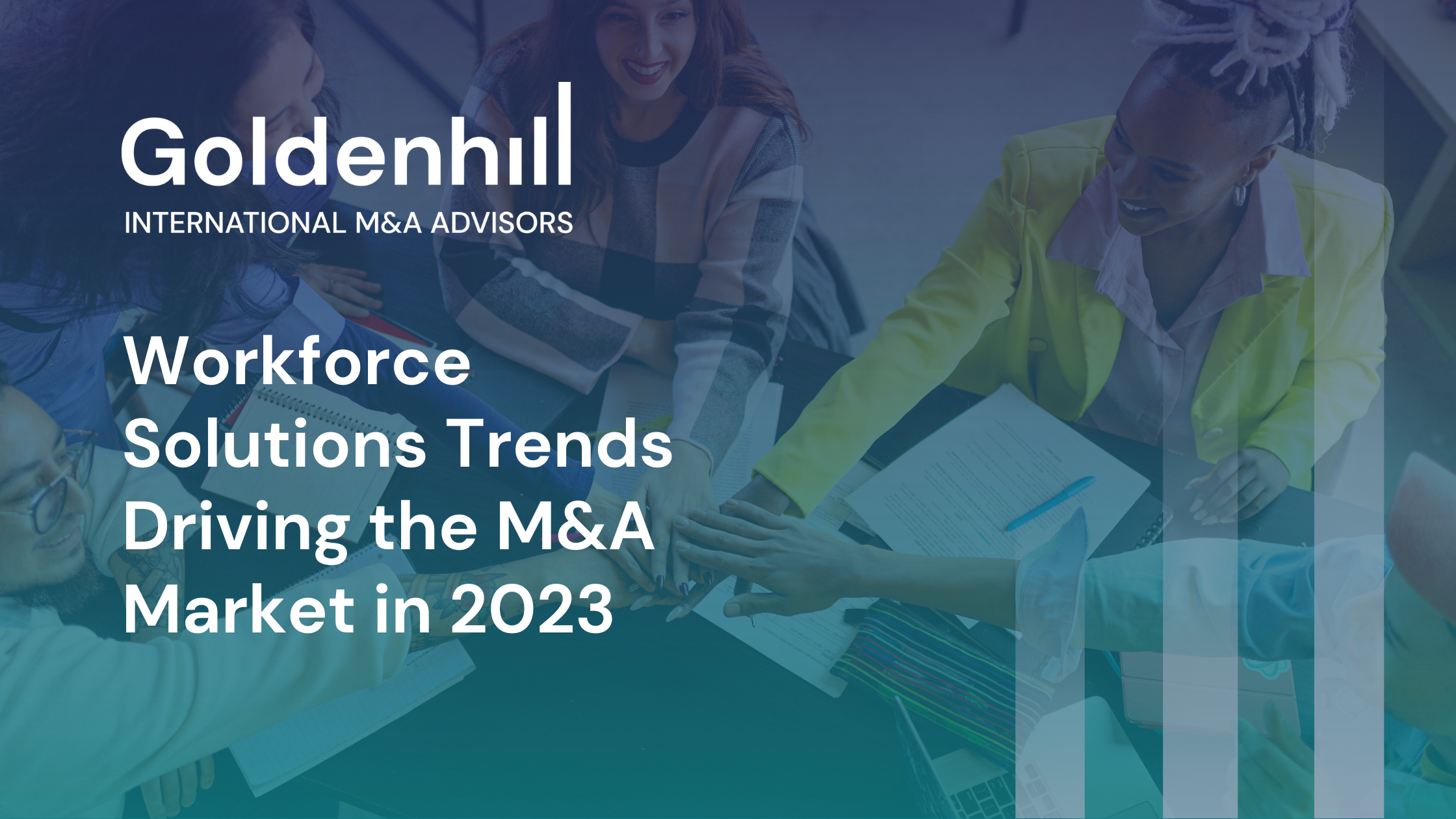 Workforce Solutions Trends Driving the M&A Market in 2023
The global pandemic of 2020 had a significant impact on various industries, and the Workforce Solutions M&A market was no exception. Transaction volumes plummeted by approximately 60% compared to 2019 levels.
However, the resilience of this market became evident as it emerged as one of the quickest to recover. In 2022, the sector witnessed a remarkable resurgence, with a record number of completed M&A transactions, totalling 341.
This article explores the key trends that contributed to this surge in transactions and analyses recent deals in the Workforce Solutions industry.
Impact of Conversational AI
One of the main drivers behind adopting conversational AI, which focuses on simulating human-like conversations through chatbots and virtual assistants, is its ability to provide round-the-clock engagement with candidates. In the recruitment domain, conversational AI platforms have become invaluable tools for automating tasks, delivering personalised experiences for candidates, and improving overall recruitment efficiency.
These platforms can generate recruitment marketing content, answer routine questions from candidates, conduct initial screening interviews, and assist recruiters by generating contextualised content for their communications with candidates. By automating repetitive tasks and leveraging AI-driven analytics, recruiters can focus on strategic decision-making and building meaningful connections with candidates.
With new products already on the market from SeekOut, Beamery and others, Workforce Solutions firms must keep pace with the advances by leveraging these technologies in their businesses to remain competitive.
We expect increasing cross-over between technology-led and services-led firms in the Workforce Solutions M&A market.
Talent Marketplaces Gain Market Share
Talent marketplaces have emerged as a transformative force in the employment landscape, disrupting traditional hiring and job placement models. These platforms leverage AI and advanced algorithms to connect companies with talent across the globe at scale.
Rather than rely on candidates applying to specific job openings, Talent Marketplaces present companies with pre-screened candidates ranked based on fit. This process helps to find candidates who may not have applied for roles they are well-suited for but do not meet all of the stated qualifications. Many platforms are designed to reduce the impact of unconscious bias in the hiring process, thereby increasing diversity and the overall pool of available talent.
JobandTalent, which achieved unicorn status in 2021, has led the way in the commercial and industrial sectors by acquiring many traditional staffing and recruitment firms and migrating these businesses to the marketplace model. Newer to the scene is Workgenius which focuses on the professional sectors and has completed two transactions since June 2022.
Long-term prospects for M&A in the Workforce Solutions sector remain strong, though we anticipate 2023 deal volumes will fall short of the record set in 2022.
Book a Consultation with Us
Are you a workforce solutions company owner or executive considering the possibility of a sale process?
The recent resurgence in the Workforce Solutions M&A market presents a promising opportunity to explore your options and maximise the value of your business. Our experienced team understands the unique dynamics of the workforce solutions industry, and we can tailor our approach to meet your specific needs and goals.
Book a consultation with one of our expert M&A Advisors here.
Author: Philip Albright
Partner
Highly-experienced M&A advisor with a particular emphasis in HR Technology (HRTech) and the Human Capital Management sector globally; assignments range from working with leading SaaS businesses in HRTech as well as continuing to advise traditional recruitment and staffing firms.
In my career spanning more than 25 years, I have advised on Workforce Solutions sector M&A transactions in over 30 countries throughout the world. I work with both buyers and sellers of businesses within these fields.
Additionally, I have a strong personal interest in the related fields of data science, machine-learning and Artificial Intelligence. I also work closely alongside the ESG M&A team and assist the team with M&A deals within the ESG sector.
If you are an owner or senior executive of a HR-or ESG-related business interested to discuss how M&A could help you accomplish your objectives – please get in touch.